From 18th November to 24th December 2016
Discover Graz and its numerous Christmas markets, conveniently located within walking distance!
The oldest Christmas market takes place around the Franciscan church. Styrian arts and crafts, regional farm products, hot punch and mulled wine warm the heart.
Close by is the Christmas market in front of the City Hall with the giant Christmas tree and the old fashioned merry-go-round for children. Watch out for the huge advent calendar on the façade of the City Hall.
If you want to combine your Christmas shopping with a good cause and some good entertainment, you're in the right place at Eiserne Tor. This market is run exclusively by local charity organisations and the proceeds go to selected charity projects.
And not to miss the monumental ice sculpture in the Landhaushof depicting the nativity scene. This magical Christmas manger, made with about 45 tons of crystal-clear ice, is sure to be an amazing – if transitory – work of art.
Quite unique: The Office for Christmas Carols. Since 1991, the Office for Christmas Carols has been the number 1 address for all questions and issues regarding to both Alpine and international carols, lyrics, stories and poems of the festive season. Besides an extensive library of sheet music, the knowledgeable and friendly staff also offers Christmas carol search service. From here, lyrics and sheet music are sent all over the world.

Best hotels for Christmas
in Graz

Christmas in Graz
image gallery

Top things to do
for Christmas in Graz
Visit the ice nativity scene in the Landhaus courtyard:
Now a traditional feature of Advent in Graz, awaited with great excitement each year: the ice nativity scene in the Landhaus courtyard. Art, light and the beautiful surroundings come together with breathtaking effect, creating a magical atmosphere.

Discover the 14 christmas markets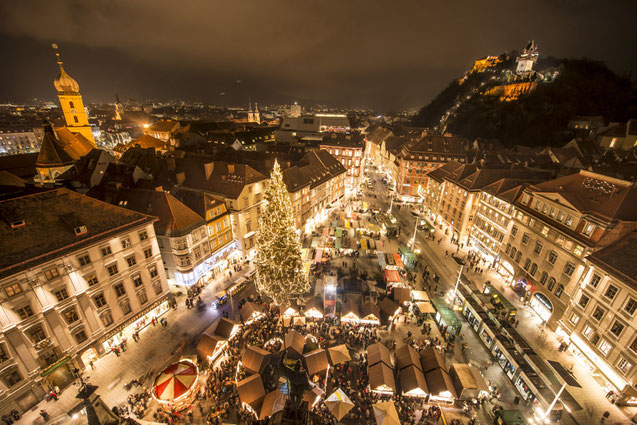 The seasonal glow of a multitude of lights, atmospheric Christmas markets, a lit Advent calendar projected onto the town hall – that is Graz during the run-up to Christmas. Experience Graz during the "5th season" and prepare to be enchanted by its unique atmosphere. 
TIP: Uniquely in Austria, all 14 Christmas markets are within easy walking distance! So take a walk around all markets.
"Taste" the  'Capital of Delight'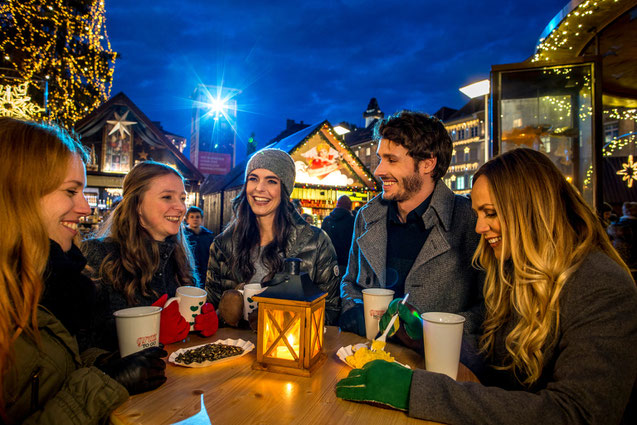 What makes Graz an official "Capital of Delight"?
Is it the relaxed southern ambiance in the city, enhancing all of your senses and giving you a great appetite? Is it the mild, sunny climate where fruit, vegetables and vineyards thrive? Or is it the many farmers' markets, selling only the freshest local produce? Or the amazing restaurants and bars..?
It's all of this, and more - an unbeatable recipe for enjoyment. Also in the advent there are many specialities to try: mulled wine, traditional christmas cookies and farm-produced specialities from the Styrian regions. Take a walk through the town and "taste" the Capital of Delight.

Best Christmas Destinations in Europe