Located at a crossroads between the Latin and Germanic cultures, Strasbourg is rich with 2 000 years of history. Its Grande-Ile, a World Heritage site since 1988, was the first urban centre in France to be selected by UNESCO.
With its unique architectural patrimony, the city is brimming with wonders just waiting to be discovered, such as the cathedral, a masterpiece of gothic architecture, La Petite France, one of the most picturesque quarters, long ago the stronghold of tanners, fishermen and millers, and the German imperial quarter, a grandiose urban creation initiated after 1871.
The city also boasts ten superb museums ranging from archaeology to modern and contemporary art.
Strasbourg is also a European capital, the seat of major institutions such as the Council of Europe and the European Parliament.
The diversity of its architecture and its warm and cheerful atmosphere will make you want to stroll through it and discover all its riches. On foot, in a tour boat, mini-tram or on a bike!
Best hotels
in Strasbourg
Top things to do
in Strasbourg
Top things to do
in Strasbourg
Walk around La Petite France District
Petite France was once the corner of fisherman, tanners and millers. You must take the time to stroll along the banks of the navigation channel and appreciate the reflections of the half-timbered houses in the water. The pretty medieval houses of the district date from the 16th and 17th centuries, and half-timbering is magnificently decorated. Their steep roofs are open over the attics where skins used to dry.
Climb to the Catheral's platform
If you want to get a beautiful view over the city, this is the place to go to. After climbing 329 steps, you will get an amazing view on the city, reaching, on one side to the Vosges (Alsatian mountains) and, on the other side, to Germany and the Black Forest.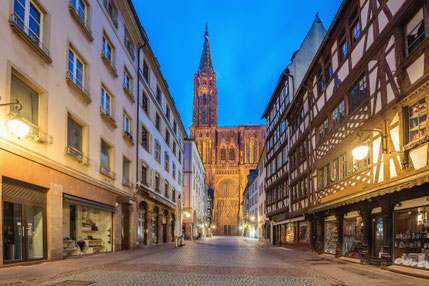 Visit the Christmas Market
Strasbourg has been holding its famous Christmas market around its impressive cathedral since 1570! Over the years, the city's reputation has grown throughout Europe thanks to the traditions it is conveying as well as its spirit of tolerance and humanism. As Christmas approaches, Strasbourg puts on its glad rags.
Sightseeing by boat
A romantic trip on a riverboat is guaranteed to leave you wanting to explore the rest of the town, including Petite France, a picturesque area with some magnificent wood framed houses, once inhabited by tanners and millers.
Biking around
In Strasbourg, the bicycle is king! Exploring France's largest cycle trail network (near 500 km!), cyclists can discover the town and its surrounding area in original and highly unusual manner as they travel along the canals, through the parks and gardens, and through the town's historical pedestrianised centre.