From 25th November to 23rd December 2021.
Basel has a deep-rooted tradition as Switzerland's most beautiful and largest Christmas city, and is well worth a visit every year. Not only the well-preserved Old Town is radiant in the warm Christmas light, but the shops and the facades of many buildings glitter with a golden glow. Roughly a hundred tall pine trees border the streets and stand like brightly lit sentinels pointing the way for the visitor. Particularly recommended is the Christmas market, which is being held not only on Barfüsserplatz, but also on Münsterplatz – one of the most beautiful squares in Basel.
The Basel Christmas Market can be found on Barfüsserplatz and Münsterplatz, right in the centre of the city and at the heart of the festively decorated Old Town. A magnificent Christmas tree stands on the Münsterplatz, with ornaments by the well-known decorator Johann Wanner.
Over 160 traders and artisans offer their goods for sale in small, rustic wooden chalets. Anyone still looking for gift ideas can seek inspiration in the wide selection and enchanting ambience. Culinary delights also abound with waffles, glühwein, genuine Basel Läckerli (a kind of gingerbread), delicious Swiss raclette or the popular grilled sausages. Visitors can also enjoy Christmas delicacies and a festive atmosphere at Claraplatz while the neighbourhood Christmas market in Rheingasse also features delicacies. The market is enriched by numerous pre-Christmas events.
General Information
Daily from 11.00 am to 8.30 pm

Best hotel deals
for Christmas in Basel

Tours & Activities
in Basel

Christmas in Basel
image gallery

Top things to do
for Christmas in Basel
Enjoy a Glühwein at the Christmas Pyramid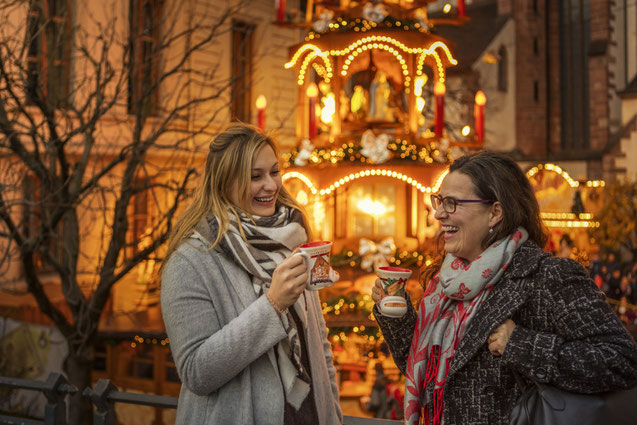 A popular meeting point at the Basel Christmas market is the Christmas pyramid. With its 13 meters in height, it is visible from afar and the attractive range of hot drinks invites guests to stay and enjoy. Also numerour other stands offer culinary delights such as waffles, genuine Basel Läckerli, delicious Swiss raclette or the popular grilled sausages. 
Write your Advent wishes in the Basel wish book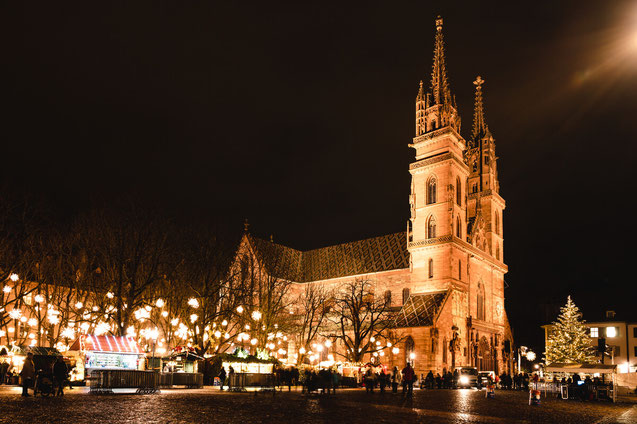 For the 24th time the traditional Basel Wish Book will once again be openly accessible in the inner courtyard of the Town Hall for all members of the public – both local residents and visitors from around the world – to add their Advent wishes. Over the entire Christmas period and into the new year visitors can fill the book with their private thoughts, wish-lists for Santa Claus and hopes for peace, love and good health. 
Schliffi uff em Märt
Children and iceskating fans can try out this new attraction on Marktplatz for free. From the 1st of December, the Marktplatz will be open for ice-skating, free of charge, whilst the market is open. Skates can be rented on site at a reasonable price. There will also be Christmas trees on sale, some delicious catering options and other opportunities for fun and games.

Best Christmas Destinations in Europe