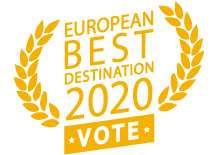 Vote for your favourite destination in Europe
From 15th January to 5th February 2020
Just like you, we are passionate about travel. For the past 10 years we have been relying on real experts' advice, your advice, to assess travel trends. In recent years, millions of you have been voting online to reward the title of Best European Destination to cities such as Lisbon, Bordeaux, Budapest and Porto.
Discover the 20 destinations in competition for the 2020 edition of this event, make your choice, follow us on social networks and be informed of the first trends. Make your vote count!
Can't manage to make a choice? Travel more and spend less and discover the best European destinations by booking your flights, accommodation, tours and activities at the best price.
Looking for inspiration? Visit our thematics rankings about the best places to visit in Europe. There's so much to discover!   

Nominees
Discover the 20 shortlisted destinations