From the atmospheric cobbled streets of the Old Town to the beautiful Georgian avenues of the New Town, Edinburgh is a city of contrasts blending shopping, historic attractions, gardens and plenty of restaurants and cafes where you can relax.
Edinburgh's stunning cityscape is one of dramatic contrasts. From the refined elegance of the New Town to the Old Town's tangled web of medieval streets, these two complementary parts of the city offer visitors an ever-changing perspective alongside countless fascinating historical and cultural attractions.
Edinburgh's bustling city centre is a sight to behold offering visitors an extraordinary blend of shopping and fascinating historical and cultural attractions alongside magnificent architecture.
Edinburgh's city centre ranks as one of the most handsome in Europe. With its elegant streets set against the dramatic silhouette of Edinburgh Castle and the medieval turrets and spires of the Old Town, Edinburgh's city centre offers visitors an exciting fusion of shopping, dining and architectural splendour.
Edinburgh is a compact city but you will be amazed at the diverse 'villages' just waiting to be uncovered. Explore the secret closes of the Royal Mile, stroll along the Water of Leith, dine at first-class restaurants and visit the home of Scottish Rugby.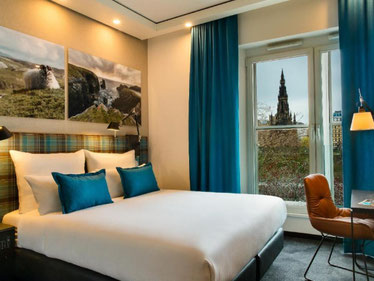 Motel One Edinburgh 
★★★
The main street is 700m away
This hotel has an excellent location score of 9.9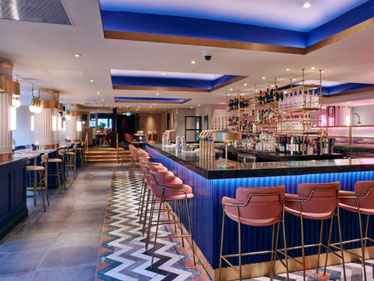 Le Monde Hotel 
★★★★
The main street is 600m away
Impressive and unique rooms 
Radisson Collection 
★★★★★
The main street is 800m away
Iconic design, contemporary restaurant, spa
Tours & Activities
in Edinburg
Top things to do
in Edinburgh
Shopping in Edinburgh
What could be better than world-class shopping in beautiful surroundings? Edinburgh & The Lothians are home to a wide range of shops, so whether you are a devotee of designer names or in heaven on the high street, the shopping won't disappoint.
Parks and gardens in Edinburgh
Escape from the buzz of city life and relax in one of the many beautiful gardens found in Edinburgh & The Lothians from the city centre to countryside houses. The city was a gold award winner in the large city category of the 2013 Britain in Bloom Awards which celebrate the UK's most stunning parks and gardens.
Food and drink in Edinburgh
Edinburgh & The Lothians is a real foodie's paradise with quality, character and imagination defining its culinary scene. Whether you want to treat yourself to fine dining in one of the city's five Michelin-star restaurants or enjoy coffee and a cake in the region's many cafes and tearooms, you won't be disappointed.
Arts and culture attractions
Visit the arts and culture attractions of Edinburgh & The Lothians, which include brilliant galleries, fantastic art centres and entertainment venues.
Spend the day marvelling at national collections of artworks or exploring smaller galleries. At night, take in a theatre show or drop by a comedy club for a few laughs.
Edinburgh sightseeing tours
There are a wide range of tours available in Edinburgh & The Lothians, and an Edinburgh bus tour is a great way to see the whole city. Edinburgh boasts a great variety of tours from city sightseeing buses to ghost walks, limousine rides and unique trike excursions. You can also venture further by minibus or coach to experience more of Scotland's regions.