From 30th November to 24th December 2023
Visit St Gallen Christmas Market, one of the Best Christmas Markets in Switzerland. For those who love Christmas time, St.Gallen is one of the best places to enjoy the festive atmosphere. Seven hundred stars shine above the city's romantic old town, whilst the cheerfully decorated stalls of the Christmas market line the narrow streets. 
"The city of stars": this is what the people of St.Gallen call their home city during Advent. And it's no wonder, because throughout December 700 stars twinkle over the old town, adding a festive sparkle to the historic facades of this UNESCO World Heritage Site. Another heart-warming sight is the huge Christmas tree in the Abbey district, which is decorated with 18,000 lights.
Numerous concerts in St.Gallen's magnificent cathedral and special events in the Waaghaus, including a food market, choir performances and readings, create a varied Advent programme in the world heritage city that is St.Gallen.
Between barley broth and merry-go-rounds.
The St.Gallen Christmas market stretches from the Waaghaus, along the Bohl, all the way to the Market Square, tempting Christmas shoppers. In around 70 huts and stands, regional traders offer their traditional Christmas goods.
Mulled wine, mulled beer, the typical raclette and other specialities are available in the Christchindli market, which offers homemade products directly next to the Abbey on two Saturdays. Another not-to-be-missed event is the "Chlausritt", which sees Father Christmas, Santa's helpers and angels take to the saddle to parade through the city.
During your stay do not miss to visit the Best Christmas Markets in Switzerland. Need more inspiration? Discover the Best Christmas Markets in Germany, Best Christmas Markets in France, Best Christmas Markets in the United Kingdom.
Book your flights, your accommodation as well as your tours & activities in Switzerland and visit the Best Christmas Markets in Switzerland.

Hotels & Apartments
for Christmas in St. Gallen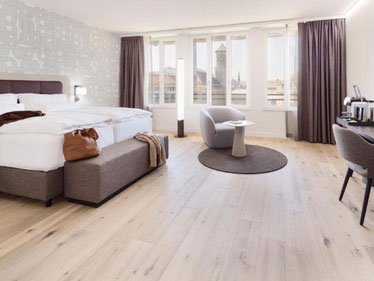 Hotel Walhalla 
★★★★
The Christmas market is 400m away
Rooms are big and comfortable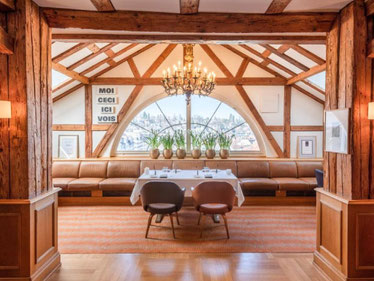 Einstein St. Gallen 
★★★★
The Christmas market is 600m away
Fitness centre with a spa section

Christmas in St. Gallen
image gallery

Best in Europe.
For an enchanted Christmas in Europe