Steeped in history and youthful energy, Dublin is a medieval city where the charming and cosmopolitan converge in delightful diversity. Fine museums and art galleries chronicle Dublin's long and colourful past, while the pubs and cafes buzz with traditional and contemporary entertainment.
Throughout Dublin city and county you will find an abundance of visitor attractions to discover and explore, from the most majestic museums to more modern centres of entertainment. Whether your interest is sport, history, art or literature, whether you want to follow a heritage trail, visit a zoo, eat in a castle or follow in the footsteps of Dublin's many musical greats, there's something for everyone in Dublin!
Tours & Activities
in Dublin
Top things to do
in Dublin
Guinness Storehouse
Located in the heart of the St James's Gate Brewery, which has been home to the black stuff since 1759, this massive seven-storey building, a former Guinness® fermentation plant, has been remodeled into the shape of a giant pint of Guinness®. A visit will teach you everything you ever wanted to know about this world famous beer. The highlight for many visitors is the Gravity Bar® where you receive a complimentary pint of Guinness® and can relax and enjoy the breathtaking 360-degree views across Dublin City.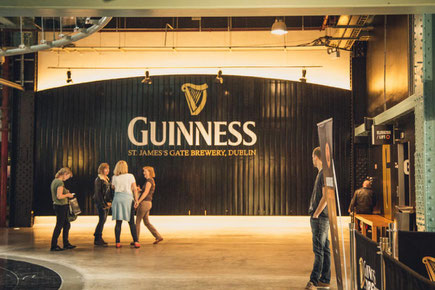 Dublin Zoo
See many rare and exotic animals living and roaming in a wide variety of natural habitats. Wander through the African Savanna and gaze at the giraffes, zebras, scimitar oryx and ostrich, then head to the Kaziranga Forest to see the magnificent herd of Asian elephants that call this beautiful place home. Dublin Zoo, located in the Phoenix Park in the heart of Dublin city, allows you to discover amazing animals to including tigers, hippos, bats, rare monkeys, gorillas, chimpanzees, to name but a few!
National Aquatic Centre
AquaZone, at the National Aquatic Centre, is one of the most innovative water parks in Europe. A whole host of exciting features ensures that there is lots of family fun, thrills – and something for everyone. If you crave extreme thrills, raging water adventures, flying through the air, or just an enjoyable day with your family, AquaZone at the National Aquatic Centre has Europe's biggest and best water rides and attractions waiting for you!
The National Gallery of Ireland
Today the collection includes over 2,500 paintings and some 10,000 other works in different media including watercolours, drawings, prints and sculpture. Every major European School of painting is extensively represented. It also houses a renowned collection of Irish paintings. The gallery's highlights include works by Vermeer, Caravaggio, Picasso, Van Gogh and Monet.
National Botanic Gardens
The Gardens, 19.5 hectares on the south bank of the Tolka contain many attractive features including an arboretum, sensory garden, rock garden and burren area, large pond, extensive herbaceous borders, and annual display of decorative plants including a rare example of Victorian carpet bedding.