The Ambroz Valley is a place of contrasts surrounded by mountains over 2,000 meters with proper names such as Pinajarro, as well as pasture lands at an altitude of only 500 meters.
This is the perfect place to practice sports in contact with nature: amazing hiking trails, cycling and all the possibilities offered by the new rail trail Vía Verde - Camino Natural de la Plata. The rail trail Vía de la Plata crosses the Ambroz Valley from South to North.
There are lots of charming accommodations, from luxury to traditional ones, as well as tasty cuisine, focused on local products, like roasted meat, ham, cheese, or vegetables.
There is plenty of water and meadows where peppers are grown for the production of the famous paprika of Aldeanueva del Camino by the Ambroz river, which gives the valley its name. This river offers incredible natural pools, such as the ones in Casas del Monte or Abadía, as well as waterfalls like La Chorrera.
The Vettones, Celts and Jews left their cultural imprint as they passed through the map of Spain shaped like a bull's skin. The Celtic Bull in Segura de Toro or the Jewish Quarter in Hervás are some of their legacies. Other legacies are the snow well and the wolf pen in La Garganta, or the Roman baths in Baños de Montemayor.
These mountains dominate a landscape with dense chestnut and oak tree forests hanging on their shady slopes, in addition to the terraces with cherry and plum trees in Gargantilla.
There are lush pasture lands dotted with holmoak and corkoak trees in the lower valley. In some cases the trees resemble a natural cathedral, which is the case of the Castaños del Temblar.
The Magic Autumn (Otoño Mágico) in the Ambroz Valley is a festival that has been declared of National Touristic Interest which since 1998 is celebrated during the month of November.
The Ambroz Valley
image gallery
Top things to do
in The Ambroz Valley
Hiking or cyling through ancient paths
More than 300 Km of routes, a perfect place to connect with nature while doing sport. You can choose to climb a 2.400 m high mountain, like El Pinajarro, or just to enjoy the descent of the Via de la Plata natural path on a bicycle. In every season of the year, you will be surprised by the landscape.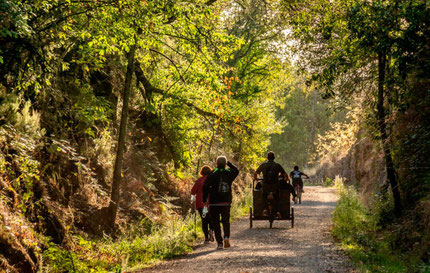 Enjoy a Health and Well-being destination
Water is always present, and that is the reason why the green landscape is the unrivaled protagonist. The river Ambroz gives its name to the valley, it has natural pools where you can bathe and also waterfalls.
Two thousand years ago the Romans already took advantage of the refreshing and healthy waters. Today we have three health resorts which offer all kind of health and beauty treatments, as well as relaxing thermal circuits with pools, saunas, and modern facilities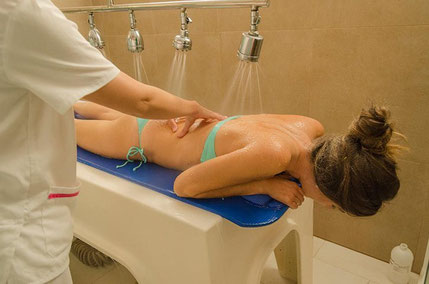 Walk under living giants
Ambroz Valley is a very singular place. Here you can walk under ancient trees that resemble living cathedrals, you will feel like Gulliver on his trips. Very old chestnuts, giant cork oaks... trees like you have never seen before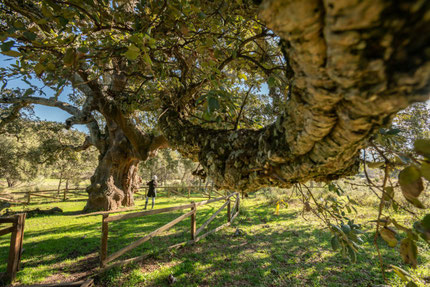 Have fun in festivals
The most important one is "Magic Autumn at Ambroz Valley" takes place each November since1998. Includes lots of activities in nature, like walking, cycling, running, and is plenty of music and gastronomy proposals, aswell for kids.
Also you can feel a jew in 15th Century at Los Conversos de Hervás (early July) or a Roman at Termarium in Baños de Montemayor (at Spring).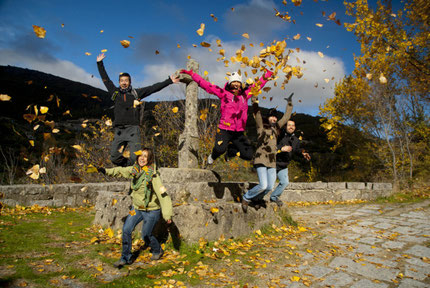 Just relax and enjoy natural food
You can find traditional recipes with local food, some places famous for the grilled roast pork, vegan places, celiac cuisine restaurants... and at a wide range of prices. The only thing in common is that they use local high-quality products.
And after that, you can rest in one of the charming accommodations: maybe an old convent, an old house, a camping, or a nice hotel... you have many places to pick.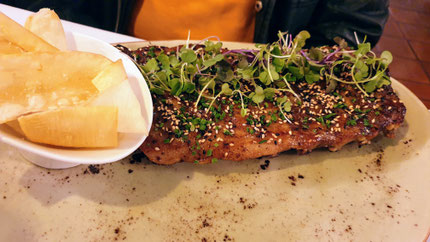 Video
of The Ambroz Valley