Best beaches in Europe
Part 6/8
Are you ready to discover the most beautiful beaches in Europe? Here is a selection of the best beaches for relaxing, partying or simply walking. Discover the top beaches in Europe. Take a look at our selection of the most beautiful beaches of the European coastline. Pack your bathing suits, your sunglasses, do not forget the sunscreen, and discover those heavenly beaches.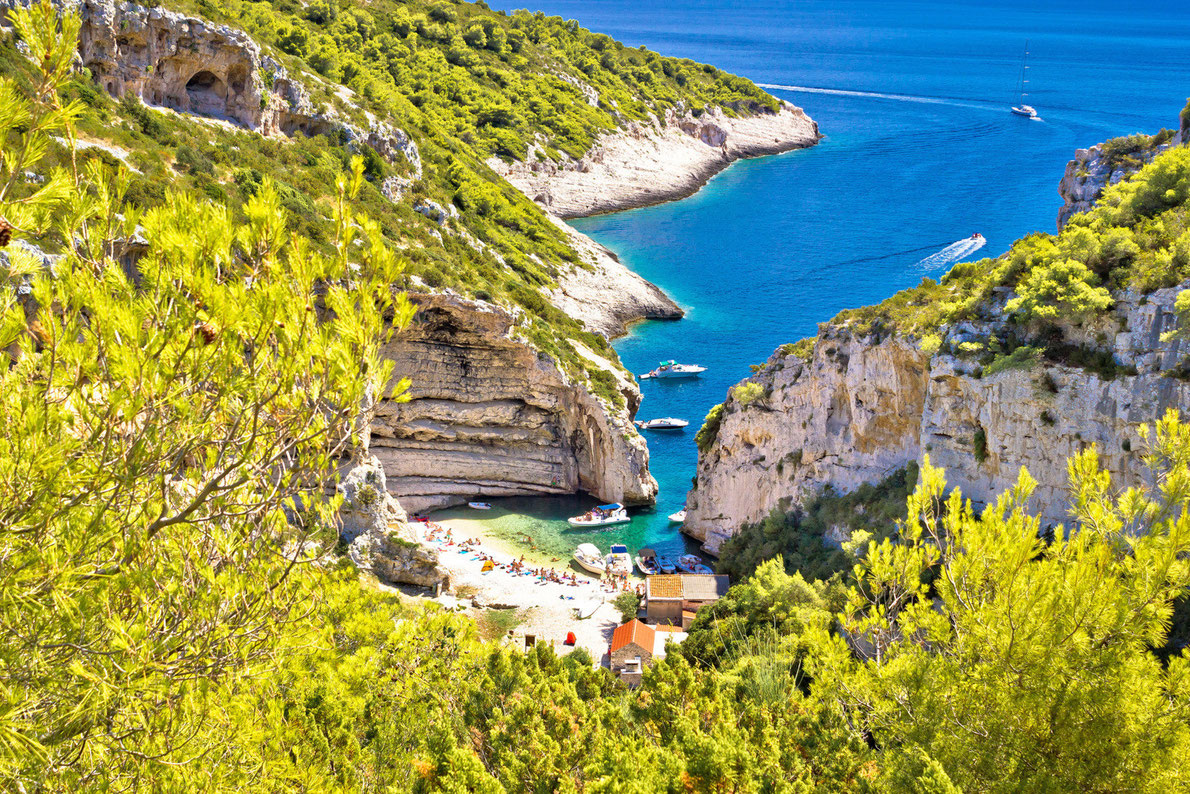 Stiniva Beach
Vis Island - Croatia
Swimming on Vis is an unforgettable experience firstly thanks to the clearness of the open sea that surrounds it. No matter whether you are looking for an escape from the heat by jumping into the sea into St. George's Bay itself, or that you have abandoned yourself to the unusually strong currents and gentle caress of undersea fresh water springs in Molo Trovna or even better: you are aimlessly floating on an inflated crocodile in the middle of the Zoglov sand bay, Vis' sea is what remains in your memories and cannot be expressed.
What can be disclosed are the beaches that are mainly approachable by road, suitable for family excursions and due to the amount of natural shade are ideal for the younger guests as well. Stiniva beach is protected upon the Nature Protection Law, as geo-morphological monument of nature.  (©tz-vis.hr).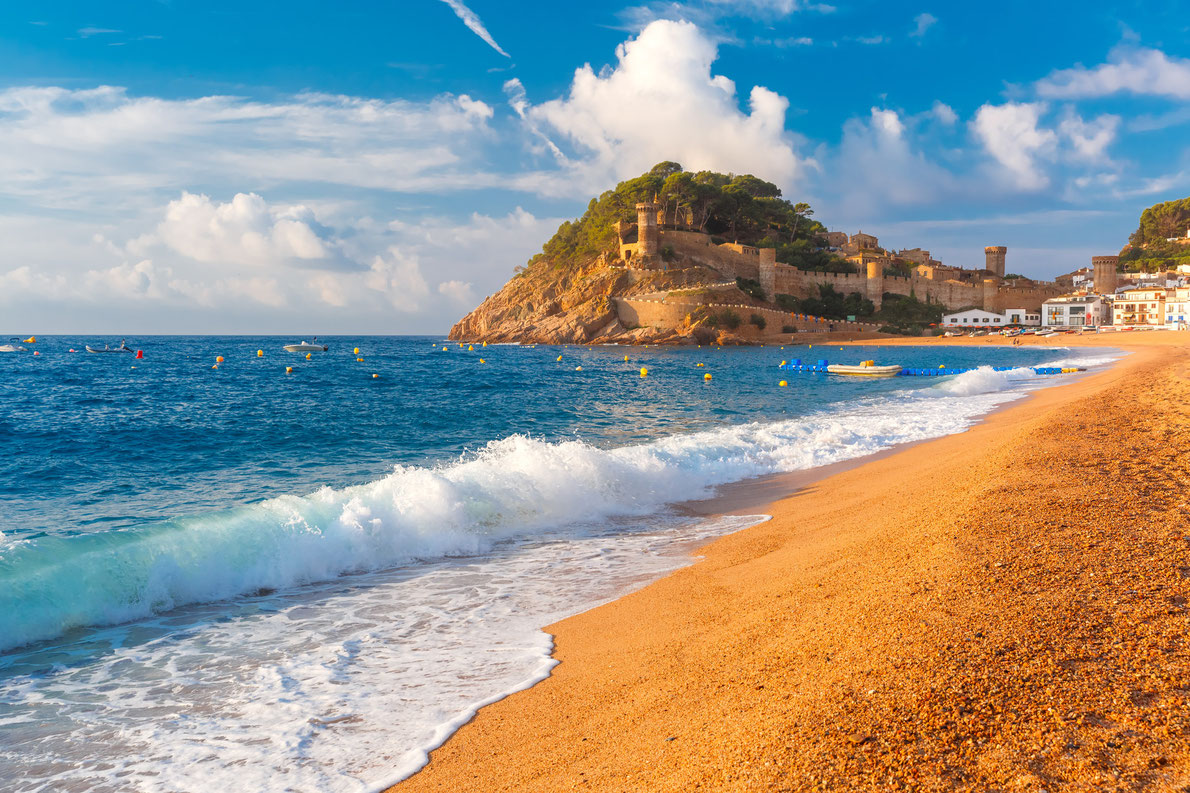 Tossa de mar
Costa Brava - Spain
Cliffs, pinewoods, coves and beaches make up the coastal profile of the county of La Selva, the setting for Tossa de Mar. The most southerly sector of the Costa Brava offers tourists an incredible range of history, art and leisure on the shores of the Mediterranean Sea. This town in the province of Girona makes available to travellers a wide and varied range of accommodation made to measure for all tastes. The cuisine, another of the cultural riches of this area, will convince the most refined palates. (©spain.info).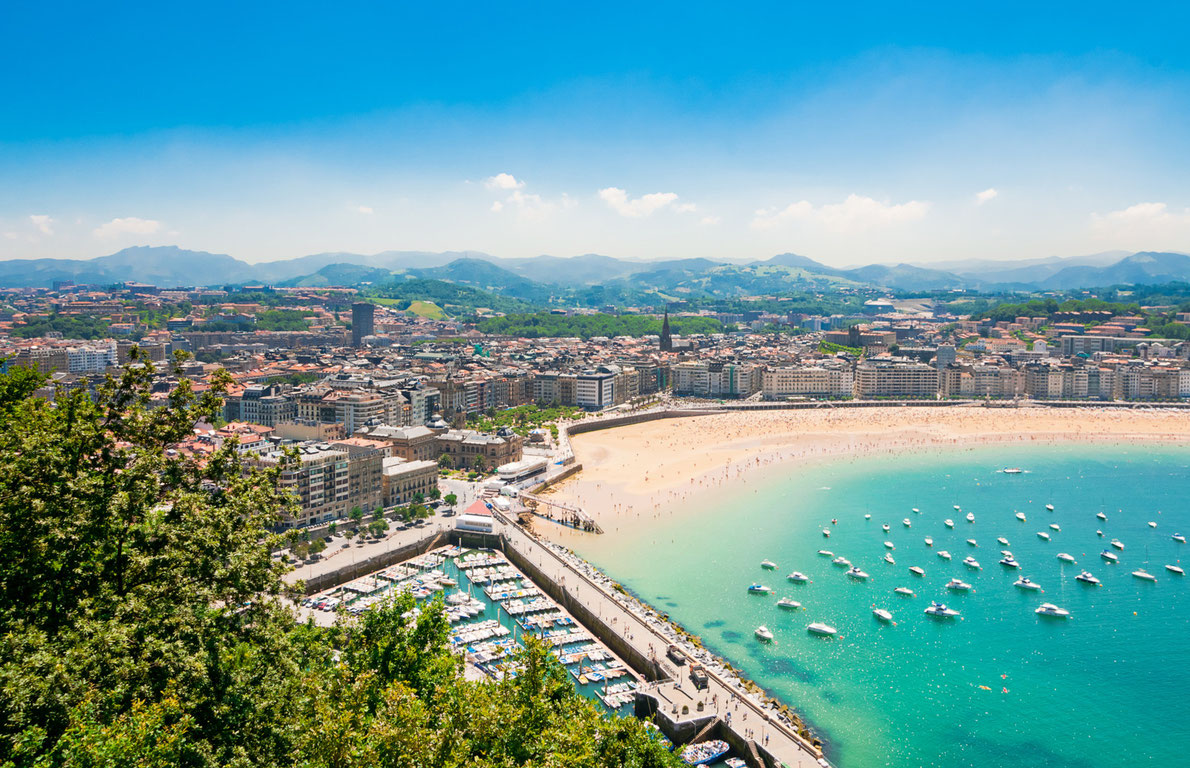 The Concha
San Sebastian - Spain
San Sebastián's beaches are one of the greatest summer attractions. Each one has its own personality: the Concha, the best known, and Ondarreta, a family favourite, make up the Concha Bay. The Zurriola, largely taken to by youngsters and surf-lovers, and the little stretch of sand on Santa Clara Island round off the beaches in the group organised under in a single Environmental Management System and offer swimmers a full range of services. (©sansebastianturismo).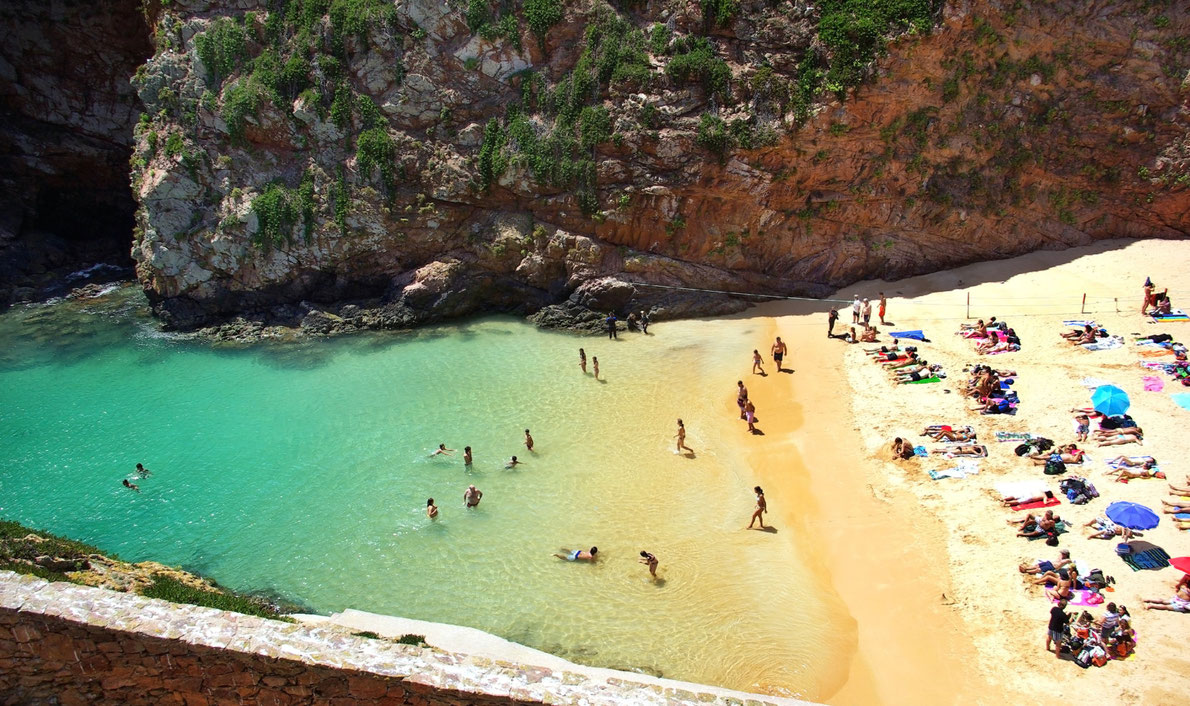 Berlenga Island
Peniche - Portugal 
At a distance of around 10 km from Peniche, the Berlengas Archipelago is a natural haven maintained in a virtually unspoilt state. Constituted by three groups of small islands - Estelas, Farilhões and Berlenga.
Berlenga, the largest island, is the only one with inhabitants throughout the year, limited to those persons required for indispensable services -- operation of the lighthouse and surveillance of the Nature Reserve, thus living in absolute isolation. Between May and October there is daily maritime transport from Peniche. If this timetable does not suit you, or you would like to visit the islands during a different period of the year, there are small boats that can take you there, subject to seafaring conditions.
Berlenga is the ideal spot for those who are looking for tranquillity, far from the normal hustle and bustle of daily life, given that the island can only be visited by a maximum of 350 persons at any one time. In order to get to know the island better, you may follow the pedestrian walks that will lead you to the grottoes, to the Fortress of São João Baptista or simply find excellent spots in order to marvel at the spectacular landscapes. (©Visitportugal).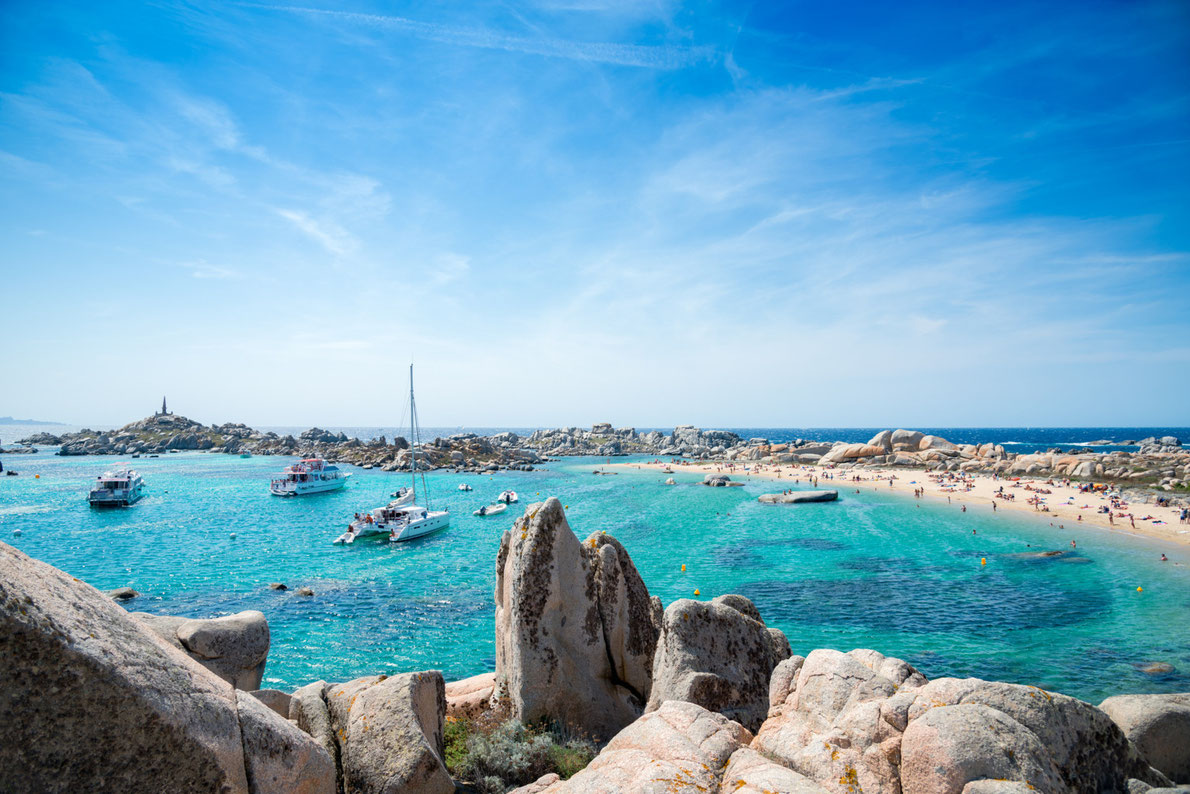 Cala Acciarino 
Lavezzi Island - Corsica
The Lavezzi Island. The most amazing stories always begin with the line "Once upon a time ". You should be able to say that once upon a time you set foot on the Lavezzi Islands, to enjoy a day of "pure nature", on land and under the waves. Beaches of fine sand and small creeks, Lavezzi is an extraordinary island that is formed out of granite blocks that are often immense, deposited on a natural arid landscape that is blessed with exceptionally rich marine life. You will spend you day walking on land and diving in a relaxed atmosphere, as well as escaping on board a boat to explore some other islands of the archipelago, such as Cavallo, Ratino and Piana.
Bring a sun hat, drinks, sandwiches and a bag for your litter (please), as Lavezzi is a « strict » nature reserve with no facilities whatsoever. Also, please ensure that your mobile phone is set up with you usual provider, or else you will be roaming with an Italian network (Sardinia is only a short distance away).  (©visit-corsica.fr).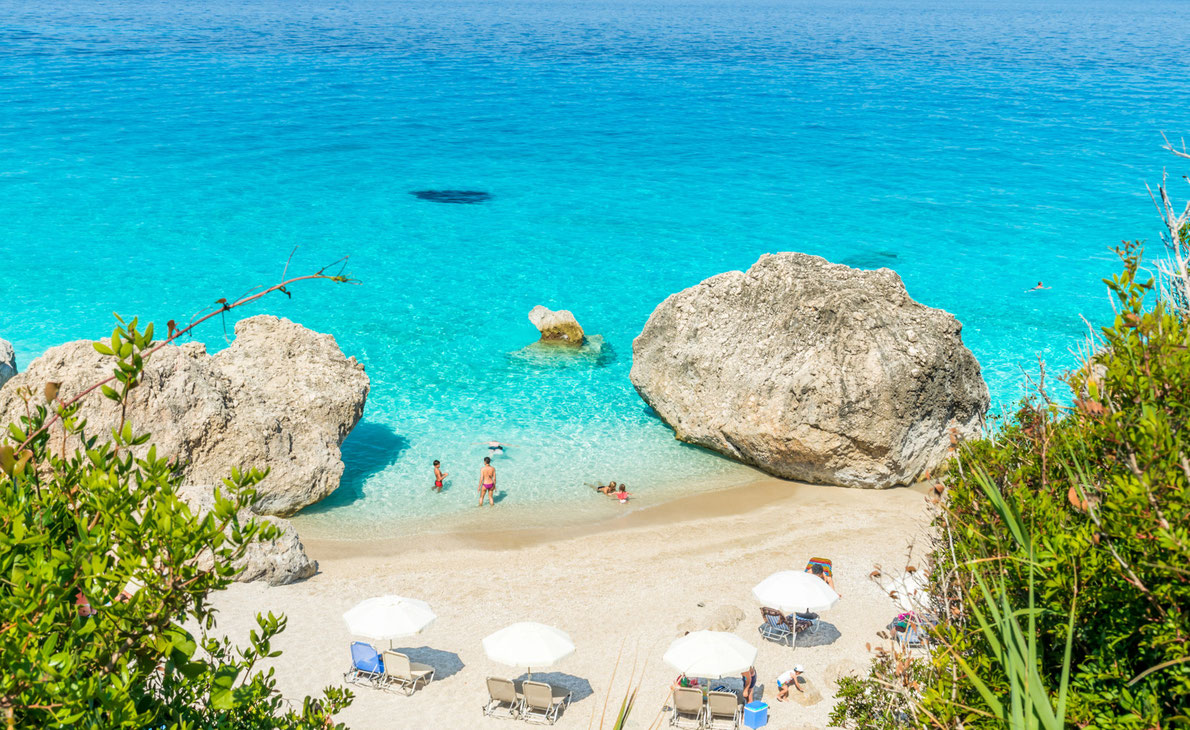 Kavalikefta beach
Lefkada - Greece
The wonderful landscapes give way to equally wonderful seascapes, with azure waters bathing white sands in coves adorned with picturesque fishing villages. Sail around the island to explore all those unspoiled spots. As a matter of fact, sailing has developped in a rather impressive way here. The modern marina in the town of Lefkada can host up to 620 vessels, attracting Robinsons in quest of fun and adventure on the island of Lefkada and on the smaller ones opposite Nydri: Prigkiponissia, Meganissi with the countless coves, Kalamos and Kastos with the secluded beaches and sea caves. If diving is your cup of tea, the lefkadian sea bed will fascinate you with the unforgettable images you'll see unfold before your eyes. (©Visitgreece).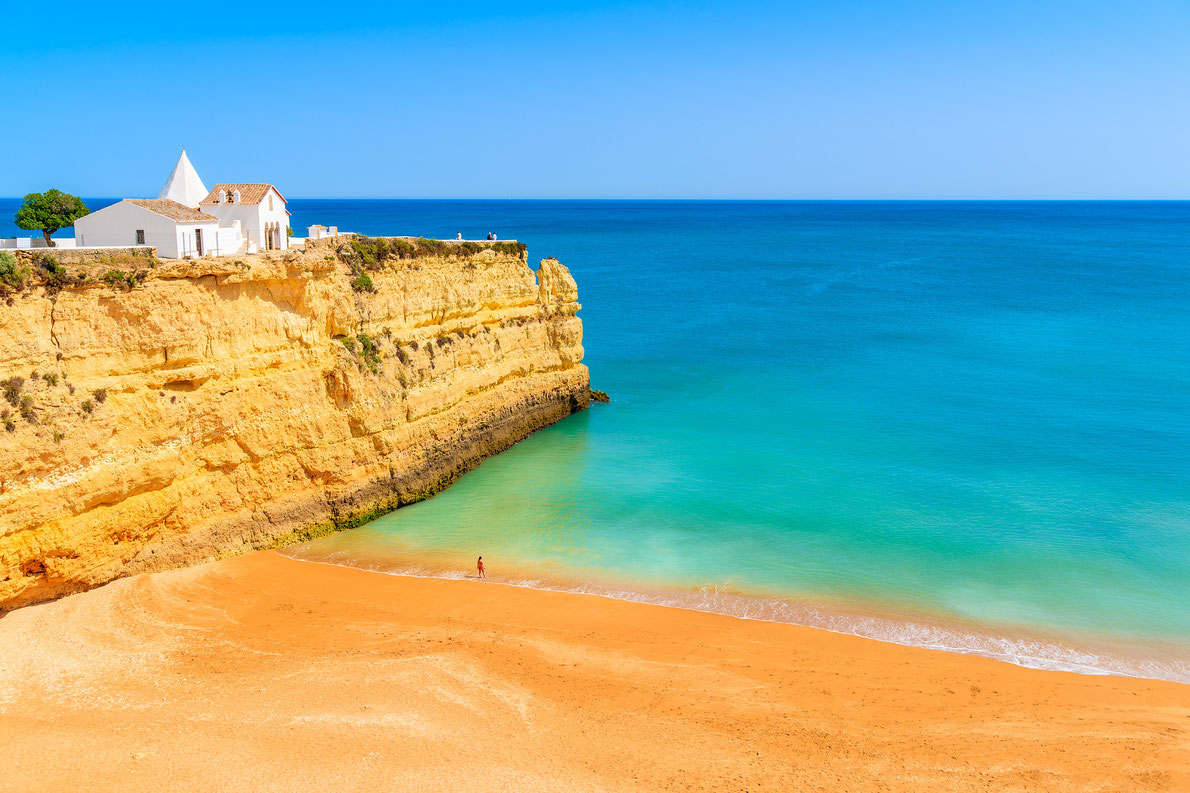 Praia Nova
Algarve - Portugal
It was here that, in the 15th century, the Portuguese set off on the epic journey that led them to discover other peoples and cultures… and it is in the Algarve that we cheerfully welcome many of our visitors. Even the climate is mild and sunny all year round!
There's no shortage of high quality beaches either. Sandy stretches as far as the eye can see, framed by golden cliffs, virtually deserted islands marking the boundary between Ria Formosa and the sea, and small coves sheltered by the rocks. The ocean, in every shade of blue and mostly calm and warm, invites you for long swims and to indulge in water sports. 
Apela Beach
Karpathos Island - Greece
Karpathos is situated in the most south part of Dodecanese complex, between Crete and Rhodes, and is the second largest island of the complex. Basically, it is considered a mountainous island (Kali Limni is the highest peak-altitude 1.214m) full of water springs, pine-trees forests, vineyards, olives and fruit-bearing trees. 
The rock-caves of the island are the home of the Mediterranean seal called Μonachus monachus, while, along with Kastelorizo, this is the only place where we can meet the amphibian species Mertensiella luscani. According to mythology, Iapetos, the son of Uranus and Gaea [Sky and Earth] was the first inhabitant of the island. 
The conquerors who defined the island's character were Francs, Turks and Italians.  The island extends over a surface of 301 km2, its coastline is 106 km long and it has 6,500 inhabitants. (©CC).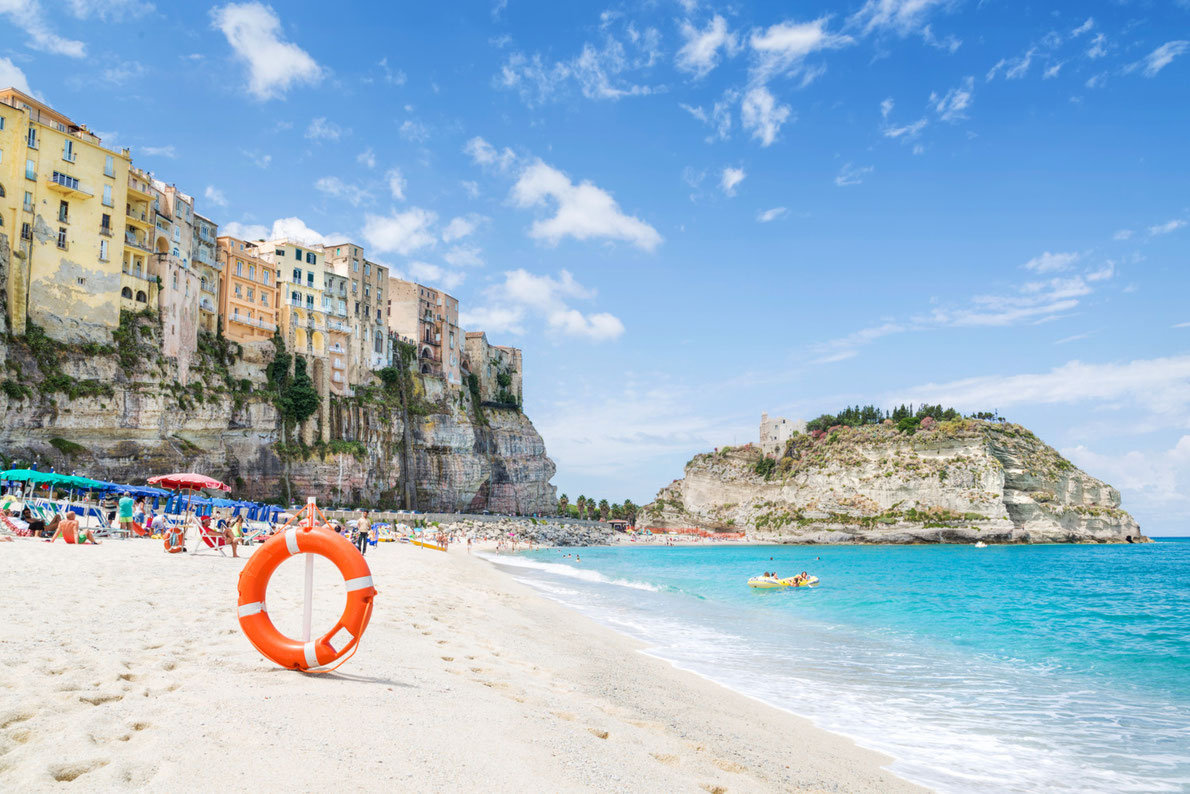 Santa Maria Dell' Isola
Calabria - Italy
No doubt that the crystalline waters and white sand are Tropea's calling card, catering to those in search of summertime relaxation, as well as to those wanting to explore its fascinating underwater world, replete with numerous fish species.
Aboveground, citrus and olive groves, and vineyards abound throughout the entire zone, serving as charming backdrop for excursions beyond the city walls. 
But of course, the city center of Tropea eventually beckons its visitors to return for a stroll through its streets and past its characteristic churches and noble palaces, stopping every now and then for a unique view onto the natural elements that frame it. (©italia.it)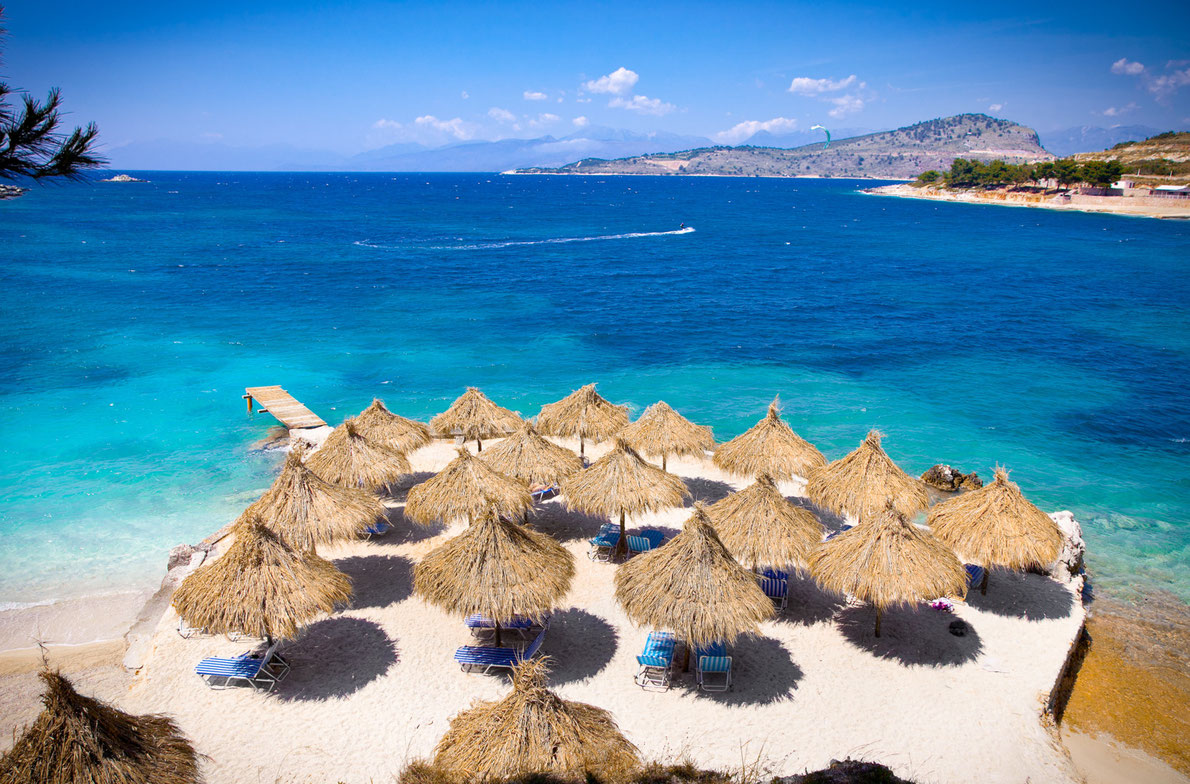 Ksamil beach
Ksamil Islands - Albania 
Ksamili Islands. The four marvellous Ksamili islands only 8.9 ha when measured together feature some of the most unspoiled beauty in all Albania. They remain covered in lush, green vegetation throughout the year, and can only be accessed by small boats. The clear water surrounding these islands makes the pristine beaches in the area that much more special. (©albania.al)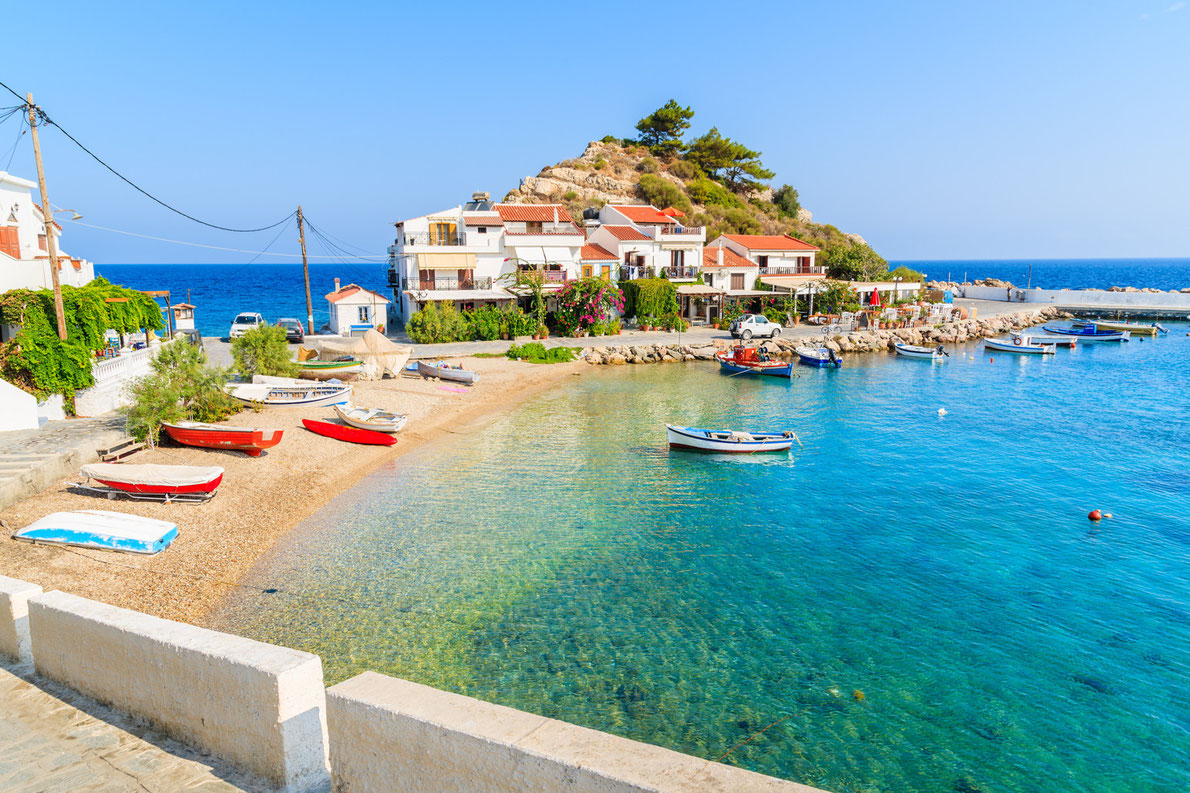 Kokkari Beach
Samos Island - Greece
Kokkari is a fishing harbour of Samos Island, which has now developed into a tourist center. Still, it preserves its old traditional face, with small houses and lanes full of flowers. Kokkari is on a small peninsula full of houses which climbs up to the top of the hill with a small harbour on one side and a superb pebble beach on the other. Surrounded by green mountains and the view out to the sea, it's worth a journey.
Near Kokkari are several villages like Platanakia, Valeodates, Staurinides as well as many others, which are all connected with streets or small paths. Hiking paths lead all around the island. Find many hidden pebble beaches, like Tsamadou, Tsambou, Lemonakia close to Kokkari. (©CC)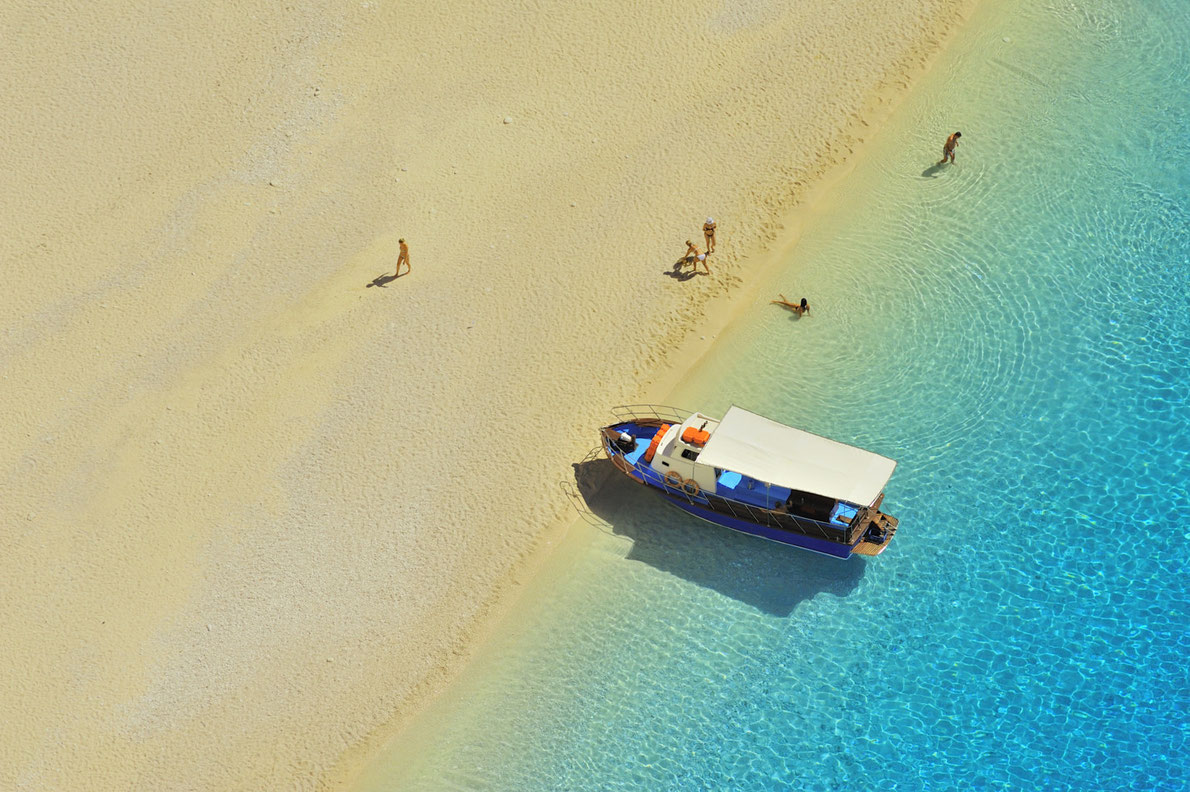 Zákynthos is a verdant island endowed with fertile valleys and a temperate climate (area: 406 sq. km; coastline: 123 km). Its landscape diversity has resulted in different types of beaches: there are sandy beaches in secluded coves where the tranquil waters are deep blue on the island's southeastern part; yet, if rugged cliffs and an interesting underwater world are to your liking, try the western part of the island. (©VisitGreece)

Plan your trip to Europe
Hotels, Apartments, B&B...

Fresh deals every single day

Thousands reviews you can trust

Tours, Sightseeing & Activities

 

Discover Europe's biggest collection of things to do and guided tours.

Whatever you want to do you'll find it here.