Saint-Tropez, in the world's top 5 glamour resorts, is a dream destination in many ways. As Beaudelaire said "Here, all is order and beauty, luxury, calm and sensual delight".
Since 50 years, especially during summertime, everyone looks to Saint-Tropez, a true laboratory of artistic trends and a must destination for the world's greatest personalities. Saint-Tropez's history is indeed marked by glamour episodes, from the filming of Et Dieu créa la Femme in 1956, Mick and Bianca Jagger's wedding in 1971, the Chanel fashion parade in spring 2010…
Some 80 years later, the quality and great diversity of Saint-Tropez's accommodation satisfies the desires of the most demanding international clientele, seduced by the comfort, the elegance, fine service and the many different styles available. Here, days go by according to your desires, from relaxing, beach life, shopping to night outings in the most sought after spots of the planet. On the port, the Place des Lices or in a fashionable place, you might even see the familiar face of Karl Lagerfeld, Giorgo Armani, Kate Moss, Puff Daddy…
If in summertime the port's terraces facing the yachts offer a permanent parade, Saint-Tropez still remains a provençal village filled with history and tradition where everyday life is most pleasant. These are the different facets amongst others that contribute to its charm.

Best hotel deals
in Saint-Tropez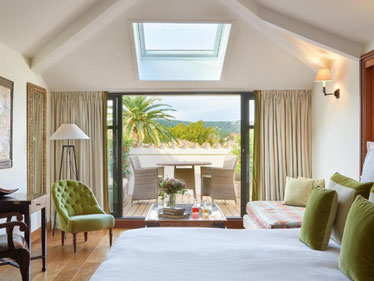 Pan Dei Palais
Situated in the real heart of Saint-Tropez
Outdoor pool surrounded by sun lounges and a bar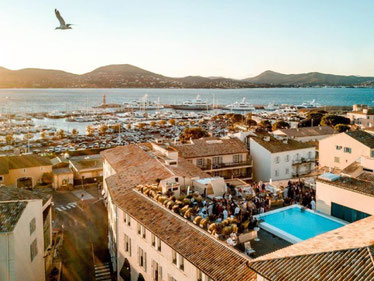 Hôtel de Paris 
★★★★★
Located in the centre of Saint-Tropez
Rooftop outdoor pool with a sun terrace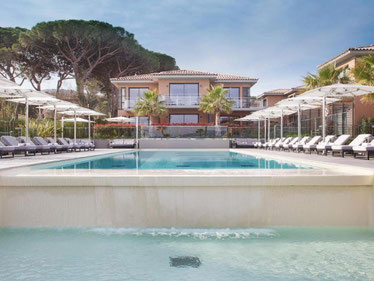 Kube Saint-Tropez 
★★★★★
200 m from the beach, 1.6 km from the centre
Panoramic views of the Gulf of Saint Tropez
Saint-Tropez
image gallery
Tours & Activities
in Saint-Tropez
Top things to do
in Saint-Tropez
Saint-Tropez Leisures
Its natural environment being preserved will delight all kind off enthusiasts : the Saint-Tropez Peninsula offres fine sandy beach as well as water sports activities, golf courses and vineyards.
The Annonciade Museum
The Annonciade Museum reminds us that the village of Saint-Tropez has been one of the most active centre of "avant-garde" painting at the beginning of the XXth Century, thanks to Paul Signac who, on board his ship l'Olympia, discovered this little fishing harbour in 1892. He fell under the spell of the place, bought a house, la Hune, which he turned into his studio and invited many other painters to join him: Cross, Matisse, Derain, Marquet.
Go shopping!
Since the fifties, Saint-Tropez is a true laboratory for fashion trends. The greatest international brands are established in this luxury hot spot of the French Riviera, where designers' genuine creations are much acclaimed by fashion followers. Since more than fifty years, the village is considered to be the international capital for summer fashion. Vachon, Jean Bouquin, Lothar's, K Jacques…Saint-Tropez designers that have made their mark worldwide.
Guided tours
Interactive guided tours on iPod Touch/Phone: discovering Saint-Tropez freely and in your own time. iphone rentals everyday and all year round during Tourist Office opening hours : 3 € per iPod. Available languages : French, English, Italian.
"La bouillabaisse"
A few meters from the beach, with a view on the bay, La Bouillabaisse offers an instinctive provencal cuisine and seafood, notably the traditional "Bouillabaisse".