Advent in Zagreb 
29th November 2021 - 2nd January 2022
Wouldn't it be nice to experience our life as we used to live it before, even for a short time?
The good news is that you can, as the award-winning Advent in Zagreb WILL take place this year, offering plenty of seasonal cheer, while respecting the realities of the current situation, as the Croatian capital will once more offer the festive atmosphere which saw Zagreb voted the best Christmas Fair in Europe three years in a row.
If there is one thing tourism has learned about the new reality, it is that innovation and new approaches to attract tourists to a destination are vital. Some tourists want to experience the sights and smells of the festive season, others are more cautious and would prefer to observe online for now, building up their desire for a visit when things are more normal. 
Advent in Zagreb 2020 embraces both approaches superbly, offering a mix of traditional and tangible festive cheer, while also reaching a wider audience online with a host of concerts and cultural events which will be streamed online. 
For those looking forward to the romantic walk through the central green squares of the city, from King Tomislav Square to Ban Jelacic, the romance will once again be there with the traditional stunning display of Christmas lights and decorations.
The spirit of Europe's best Christmas market will be preserved through a rich cultural and musical programme, and there will be a busy programme of cultural activities dotted all over the city, all of which will of course be held in accordance with the latest official advice and measures.  
Much of this programme will be broadcast online, allowing Zagreb fans around the world to enjoy the magic of Advent in Zagreb from the comfort and safety of their own homes. And maybe, to dream a little of planning a visit to Advent in Zagreb 2021, when this increasingly popular event will hopefully revert back to its traditional splendour that has helped make it one of the most talked about Christmas markets in Europe in the last five years. 
Embracing the traditions of the past and the technology of the future is a new tourism reality, and a new AR feature will be one of the novelties of this year's event. Advent with augmented reality will present the motif of Zagreb's seasonal cheer in a novel way, connecting the warm and festive traditional atmosphere with modern technology. 
Some 20 locations throughout the city, including parks and squares all over the city, will come to life through AR via the smart phones of tourists and citizens alike, as they can consume the rich animated content that has been prepared for each location.
Zagreb is a wonderful city to stroll around any time of year, with its numerous squares, parks and historic quarters, but there is an additional spice during Advent. The city is lit up with thousands of lights, colourful decorations, music in the background, all of which help lift the mood and create that unique Christmas ambience. With a rich cultural programme including concerts, exhibitions, plays for children, a virtual gallery of the nativity scene of Zagreb's churches, and a  range of other outdoor activities, you will not stroll too far until you find something of interest. Many institutions and buildings in the Upper Town will be decorating their windows to add to the festive spirit. 
Gastronomy is a strong part of the Advent experience, and so it will be this year, with some small differences. Due to the current situation, there will be no food and drink stalls this year, but the magnificent Zagreb gastronomic offer awaits in the city's restaurants, who will be preparing a selection of traditional winter treats on their Advent menus. 
Why not experience the welcome and spirit of the people of Zagreb, who are determined to see out this difficult year with a smile. Advent in Zagreb 2020 will be different from the previous award-winning editions, but the joy of Advent, fantastic events, stunning setting, and warm welcome will all be the same and waiting for your visit. The City of a Million Hearts looks forward to sharing the joy and warmth of this special time of year with you. 
See you in Zagreb!
Detailed information about Advent in Zagreb can be found online at www.adventzagreb.hr
More information and more events:        

Best hotel deals
for Christmas in Zagreb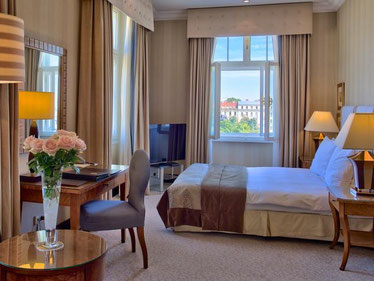 Esplanade Hotel 
★★★★★
Near the Main Train Station
Wellness centre, staff, location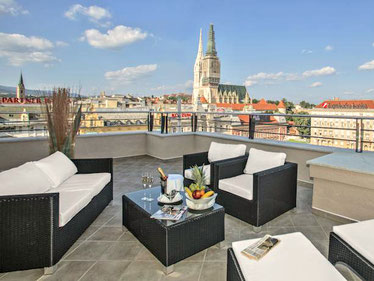 Hotel Dubrovnik 
★★★★
Set on Zagreb's Main Square
Perfect location, parking, pets allowed

Tours & Activities
in Zagreb

Christmas in Zagreb
image gallery

Top things to do
for Christmas in Zagreb
Advent on the main square and on Zrinjevac square
The centre stages, featuring a diverse musical programme, will be in Zagreb's main square of Ban Josip Jelačić and the nearby Zrinjevac Park. From November 28th until the 1st January, Zagreb's most beautiful park will also feature dance events, while traditional delicacies as well as original gifts and local souvenirs typical of Zagreb will be on sale at numerous stands aligning the park promenade.
May be subject to change due to covid-19. Detailed information about Advent in Zagreb can be found online at www.adventzagreb.hr
Visit the traditional Christmas fair
The traditional Christmas Fair will take place during Advent in the streets surrounding the Jelačić Square, and the young ones can take a ride in the Jolly Christmas Tram with Santa Clause, fairies, elves and many other cheerful characters. All the visitors will have the opportunity to enjoy the somewhat-forgotten specialties of Zagreb, warm up with a cup of hot chocolate or mulled wine, or buy unique souvenirs and Christmas decorations for their loved ones. 
May be subject to change due to covid-19. Detailed information about Advent in Zagreb can be found online at www.adventzagreb.hr
Ice Park on King Tomislav Square
A Christmas fairy tale awaits you in one of Zagreb's most beautiful parks – ice skating rink, selected food and beverages, as well as music events. This is the place to watch people skating and having fun. Visitors are encouraged to join in!
May be subject to change due to covid-19. Detailed information about Advent in Zagreb can be found online at www.adventzagreb.hr

Christmas in Zagreb
Video

Best in Europe.
For an enchanted Christmas in Europe