With more than 130,000 inhabitants (300,000 in the greater urban area), Lausanne extends a very warm welcome to its guests. Situated on the shores of Lake Geneva, the biggest lake in western Europe, this "metropolis" with a human face is a gentle, subtle blend of a modern city with a rural heart, caught between bathing resort and commercial capital, lake and mountain, boutique and supermarket.
Several images are associated with Lausanne: if one had to be chosen for you today, it would be that of a city of hospitality and recreational enjoyment. The hub of major European movements since time immemorial, it has first and foremost put in place all that contributes to urban quality of life: mens sana in corpore sano.
Universities, superior hotels, the leading Beaulieu Lausanne convention and exhibition centre, shopping streets, service companies, cultural amenities, sports facilities… The headquarters of the International Olympic Committee and of more than 30 international sport associations and federations.
With its smiling face, its spectacular natural setting, its variety of recreational facilities, its festivals and its events, Lausanne's desire is for everyone to have an enjoyable time. To enjoy the human dimensions of this city where communication and conviviality still thrive. To enjoy the mildness and variety of this location divided between nature and city. To enjoy all that has been achieved here to cater for the wishes of people seeking after a change of scenery, sport, culture, knowledge, business, care, love… Not to mention the Olympic Museum, which all the world's élite athletes ought to visit one day.
The bright lights of the Olympic Capital are shining to welcome you.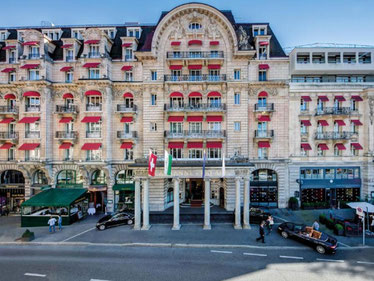 Lausanne Palace  
★★★★★
Situated in the real heart of Lausanne
Panoramic views of the city and Lake Geneva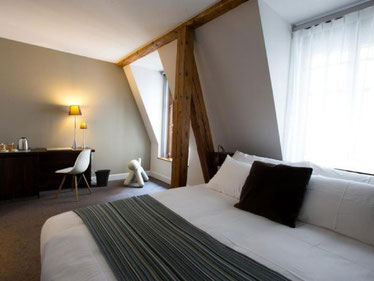 Hôtel des Voyageurs 
★★★
Located in a quiet pedestrian zone in the centre
This hotel has an excellent location score of 9.5
Tours & Activities
near Lausanne
Top things to do
in Lausanne
The old town and the Cathedral
The old town, or the Cité, testifies to the past existence of a lively medieval town. Today, among other facilities, its lanes host antique shops, art galleries, restaurants and bars. At the heart of the old town, the majestic Lausanne cathedral overlooks the city. Seen as one of the most beautiful gothic art monuments in Europe, it attracts more than 400,000 visitors every year.
Shopping at flon district
Within ten years, this industry and craft area has become an undisputed triumph of town planning. The trendiest district of Lausanne now hosts a hotel, accommodation, colleges, cinema halls, art galleries, restaurants, bars and discotheques as well as many shops.
Lake shores at Ouchy
Ouchy represents one of the favourite Sunday strolls for Lausanne citizens and passing visitors. Walkers, cyclists and skaters share the tree-lined, flower-bedecked walkways. From the Haldimand Tower to the Bellerive swimming pool, via the Château, the landing stage and the port of Ouchy, this promenade traverses three parks including the one that is home to the famous Olympic Museum. This stroll can be extended eastwards as far as Lutry and westwards to Saint-Sulpice.
A break in the Vineyards of Lavaux
Located to the east of the city, the terraced vineyards of Lavaux, a listed UNESCO world heritage site, provide an amazing landscape that has inspired many local and foreign painters. You can criss-cross the region and its traditional villages on foot, by bike, by car or in a train with panoramic views, not forgetting to stop off at a local wine cellar.
"Belle époque" boat cruise
You cannot leave Lausanne without having sailed on Lake Geneva aboard one of the boats of the Compagnie Générale de Navigation. Its "Belle Époque" fleet, the world's largest, offers various options from a simple lake crossing taking you to France to a cruise wining and dining at sunset