Already for fifty years, Latvia's State Forests (LVM) Nature Park in Tērvete has been charming its visitors with its unbelievably picturesque surroundings and rich cultural heritage.
Travellers are invited to explore the works of Latvian writer
Anna Brigadere
, the Tērvete River valley with its magnificent landscapes, the unique Old Pine Park - a great pine forest where the
trees are almost 300 years old
and 40 metres high. The Park is located only 54 km from the popular summer resort town
Jūrmala
and 70 km away from the Latvian capital
Riga
.
Tērvete Nature Park is the largest fairytale land in Northern Europe covering more than 1 200 hectares of forested hills full of stories and miracles. Strolling along the scenic hiking trails, visitors will be taken to a number of different thematic sites, inhabited by fairytale characters. Both the length of the walk and the time spent for active recreation may be planned to suit the preferences and physical fitness of all Park visitors. The total length of the trails reaches 35 kilometres. The infrastructure is suited for hikers, cyclists, Nordic walkers, people with special needs and families with baby prams. 
Children and young people can combine recreation with environmental education - they are invited to attend environmental trails, take part in workshops and summer camps. The activities are based on the international environmental education programme Learning about Forest.
The name of Tērvete has been known already since the 9th century. In the 13th century, fierce battles between the Semigallians and the Livonian Order troops took place in Tērvete. Tērvete Castle Mound and the reconstructed Tērvete Wooden Castle keep evidence of the mighty Semigallian cultural centre, which at that time was one of the greatest in the ancient Baltic lands. 
Nature Park in Tērvete has been repeatedly rated as the friendliest place for families with children in Latvia and has also won the highest praise in a social project vote as the best tourist destination. Nature Park in Tērvete was named the European Destination of Excellence in Latvia in 2009 within the framework of the EDEN project (in the nomination - sustainable tourism in protected areas). 
Enjoy a miraculous recreation for all generations!
Tervete Nature Park
image gallery
Top things to do
in Tervete Nature Park
Enjoy Tērvete Reservoir
LVM Tērvete Reservoir is a picturesque 70-hectare large lake - a very special place loved by anglers and holidaymakers. There are camping cabins and tent sites, sports fields and picnic areas for those wishing to spend a night in the Park. Tērvete Reservoir can be proud not only of its fish of award-winning sizes, carps and pikes, but also of flocks of birds that have chosen the Reservoir as their place of dwelling or use it as a migration point. There is a special bird-watching tower for bird enthusiasts.
Enjoy Skyways of Lucky Land
Skyways of Lucky Land - a trail several metres above the ground made of ropes and wood. There are tracks of different levels of difficulty four to ten metres above the ground. The activity is intended for pre-school and school-age children, and youth, however, grown-ups are also encouraged to take part, as our slogan says "Anyone Can Do It!". A Swiss-designed roll-on/roll-off continuous belay system is used in the rope trails, ensuring safety from the start to the finish preventing any arbitrary unfastening from the belay system.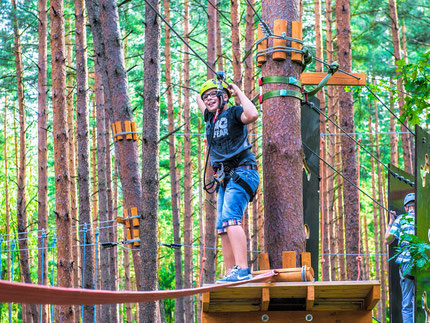 Tērvete Butterflies
Enjoy the tropics here in the Butterfly House of Tērvete - a place where to learn about butterflies of different colours, shapes and sizes. Visitors have the opportunity to enjoy the tropics and the magnificence of Asian, South American and African butterflies, learn about the butterfly life cycle, development, characteristics and feeding habits. In the tropical house, there are more than 15 species of butterflies from all over the world. It is available from May to October.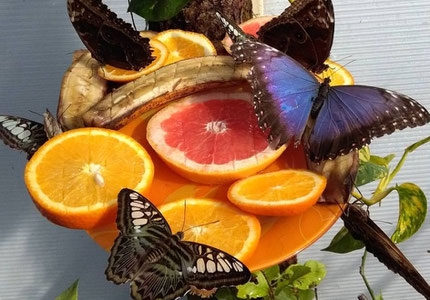 Enjoy Horseback Riding
Enjoy the magic landscapes of Tērvete Park while riding a horse: the dark forests of Latvia, the curved trails, the clear waters of Tērvete River and the bright green meadows. Horses are well-suited both for children and experienced riders, as well as for those who just want to start their horseback adventure. On festive occasions or just to have some lovely moments, guests can enjoy a ride in a cart, while a snowy winter day will be perfect for a sledding adventure.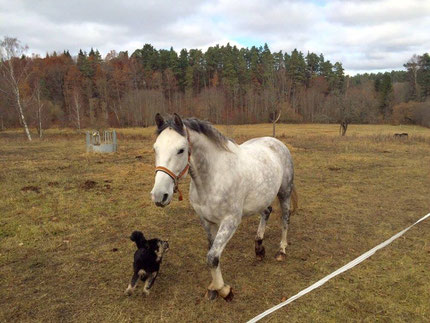 Ride a Bicycle
LVM Nature Park in Tērvete offers bicycle rentals. There are bicycles for riders of all ages and sizes. The youngest visitors can ride in a comfortable seat adjusted on a specially equipped adult bike. Guests can also try their hand at riding a DIP DAP scooter. The many trails and paths of LVM Nature Park in Tērvete allow planning individual and versatile routes.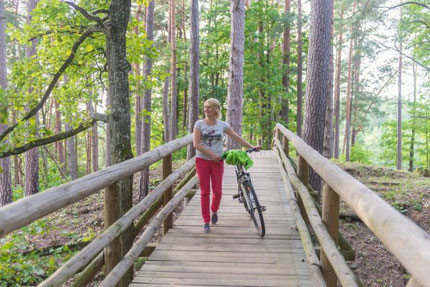 Video
of Tervete Nature Park