From 24th November to 22nd December 2023
Erfurt's Christmas Market is located in the medieval old town of Erfurt and is one of the loveliest Christmas Markets in Germany. The background of the Cathedral Square is the perfect setting for the special atmospheric time of Advent. Fun attractions and fascinating sights await visitors at the market. You will find traditional handmade crafts, delicious treats, Thuringian specialties and exquisite Christmas decorations as well as an enormous candle-lit Christmas tree, a 12m high pyramid and a crèche scene with hand-carved, almost life-size figures. Another highlight, especially for kids, is the enchanted forest where little houses picture scenes from famous fairytales. Every day visitors can enjoy a diverse entertainment program for all ages with choirs, musicians and fairytale plays. 
The Christmas Market is running from 24th November till 22nd December 2023 and is open to the public daily from 10am till 8pm, on Fridays and Saturdays even till 10pm. 
During your stay do not miss to visit the Best Christmas Markets in Germany, Best Castles in Germany, Most Amazing Hidden Gems in Germany as well as the Best Ski Resorts in Germany. 
Book your flights, your accommodation as well as your activities & tours in Germany and discover the best of Germany.

Hotels & Apartments
in Erfurt
Hotel Domizil 
★★★★
The Christmas market is 100m away
This hotel has an excellent location score of 9.8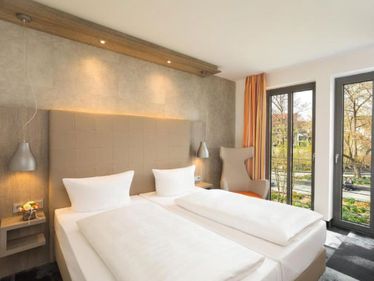 Hotel Krämerbrücke 
★★★★
The Christmas market is 800m away
Situated close to the Krämer bridge 

Christmas in Erfurt
image gallery

Best in Europe.
For an enchanted Christmas in Europe