Warmest destinations for winter sun in Europe
Is Autumn one of your favourite seasons? It is indeed a glorious season when leaves turn orange and red, the sky changes colour, the forest becomes a true painting with a thousand shades of gold. But it means that winter is coming! The days are getting shorter, you feel the lack of natural light on your body and your morale takes a dip. 
Time to avoid depression and recharge your batteries in the sun. Prepare your holidays in beautiful destinations where, even in winter, the sun is at the rendez-vous.
Take your sunglasses, sunscreen, swimsuit, reserve your flight at the best price guaranteed, your hotel and your activities.
Go on, treat yourself to a sunny break in the warmest and sunniest destinations for winter sun in Europe.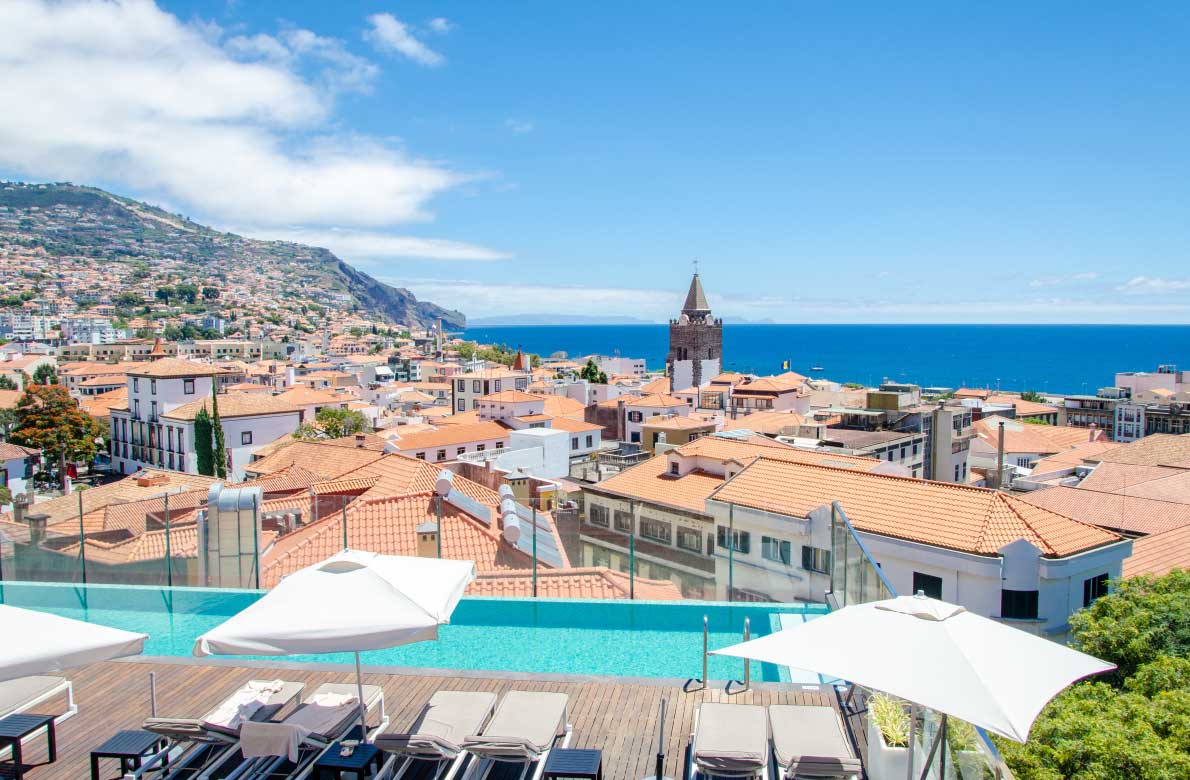 Our teams have travelled all over Europe, from North to South, West to East but we have yet to see any place more beautiful than Madeira. Madeira has a perfect climate, never too hot, never too cold. Madeira is a perfect destination for leisure activities, sports activities, rest or rejuvenation in hotels immersed in nature or luxury hotels; everything you dream of is in Madeira.
Come trekking, watch the dolphins or rest on the beaches of Porto Santo. Madeira is the perfect destination to discover all year long with family, lovers, and friends. The temperature is almost the same throughout the day, neither too hot nor too cold; do not expect a white Christmas in Madeira but you will enjoy a stroll in the beautiful Christmas market dressed simply in a t-shirt that will be good enough to face 18 degrees/ 64 Fahrenheit, average at this time of the year. Welcome to Paradise! 
For nature lovers we advise you to book your room at the hotel Quinta do Furao and for lovers of the most beautiful hotels in the world, we recommend the hotel Belmond Reid's Palace, a sublime 5-star hotel where Churchill and Lady Churchill resided.
 How to get there: Book your flights to Funchal and your accommodation, tours & activities in Madeira. 
 Where to stay: "Hotel Porto Mare - Portobay" offers 4 restaurants, 6 bars and 5 swimming pools
Malta is the perfect compromise between idleness, gastronomy and cultural tourism. Alternate the days of discovery of the island of Malta with rest days by the hotel pool. The average temperature in winter is 16 degrees, (61 F) and does not drop below 14 degrees (57 F). So, leave sledges, hats and gloves at home and pack your sunglasses and spring clothes for a dream holiday on the island of Malta.
For its excellent value for money and its perfect location we recommend the Grand Hotel Excelsior and the superbly located hotel Ursulino Valletta. Also book your best activities in Malta such as a vintage bus ride or a private tour with a local operator. 
 How to get there: Book your flights to Valletta and your accommodation at the best price. 
 Where to stay: "Grand Hotel Excelsior". Set just outside the historic entrance to Valletta.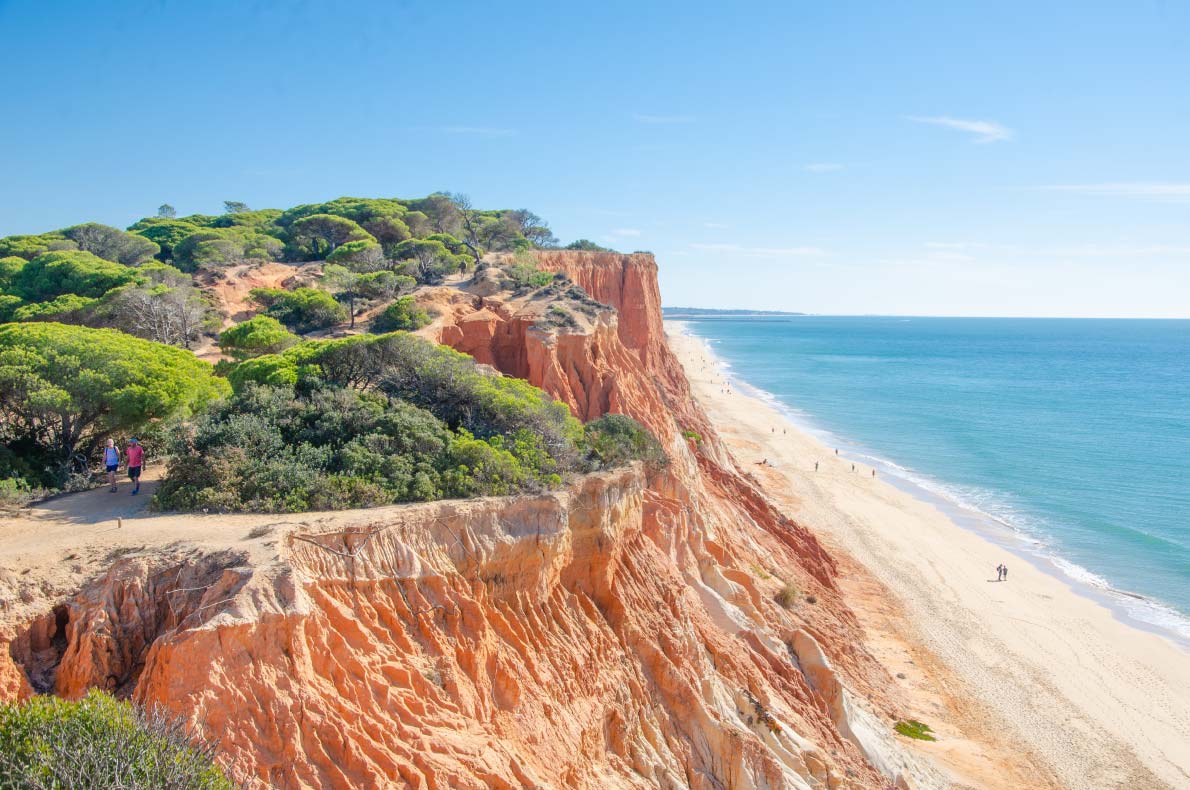 Royals, celebrities from around the world, families, nature lovers, birdwatchers, trekkers, nightclubbers, everyone finds happiness in the Algarve, a destination to discover throughout the year. The Algarve is like a good friend always smiling, always in a good mood, warming your heart and taking away the worries of the day.
The Algarve is an incredible destination that offers sublime hotels at very attractive prices in winter such as the Pine Cliffs Hotel located in Albufeira, the EPIC SANA Algarve Hotel or for small budgets who want to enjoy sea views the Muthu Oura Praia Hotel. 
 How to get there: Book your flights to Faro, your accommodation and tours & activities in the Algarve.  
 Where to stay: "Portobay Falesia" features direct access to the white sandy Falésia Beach.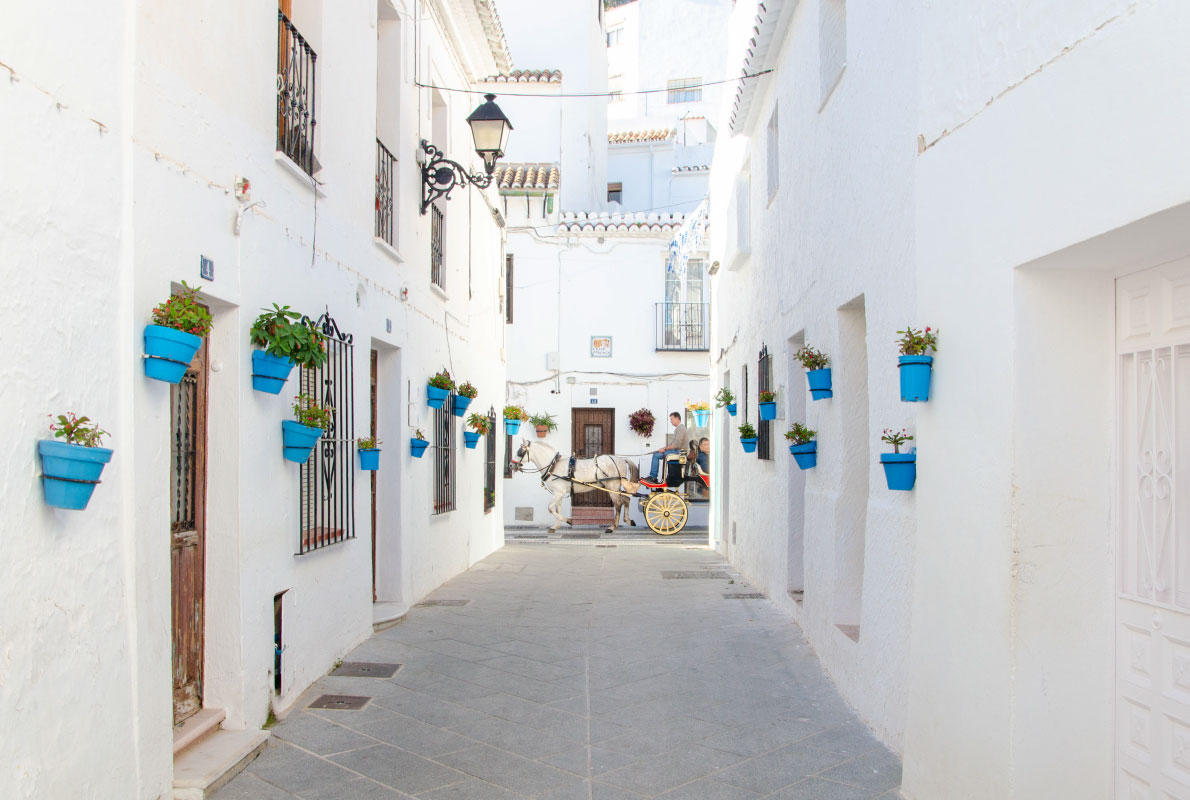 This beautiful and charming little town in Spain is totally different from other European destinations. Its sunny climate throughout the year makes it one of the best destinations for a sunny holiday in Europe in winter.
The warm air of the sea will warm you up and recharge your batteries. It is very rare to see snow in Mijas in winter, in fact it happens every ten years and the last time was in 2012. Book your accommodation at the best price in Mijas and come to enjoy one of the most beautiful destinations in Europe.
Find peace and quiet at the la Perla de Torrenueva thanks to its location metres from the beach. 
 How to get there: Book your flights to Malaga, your accommodation in Mijas or Malaga and your tours & activities in Andalusia. 
 Where to stay: "TRH Mijas". This charming Andalusian style hotel is located between the beach and the mountains.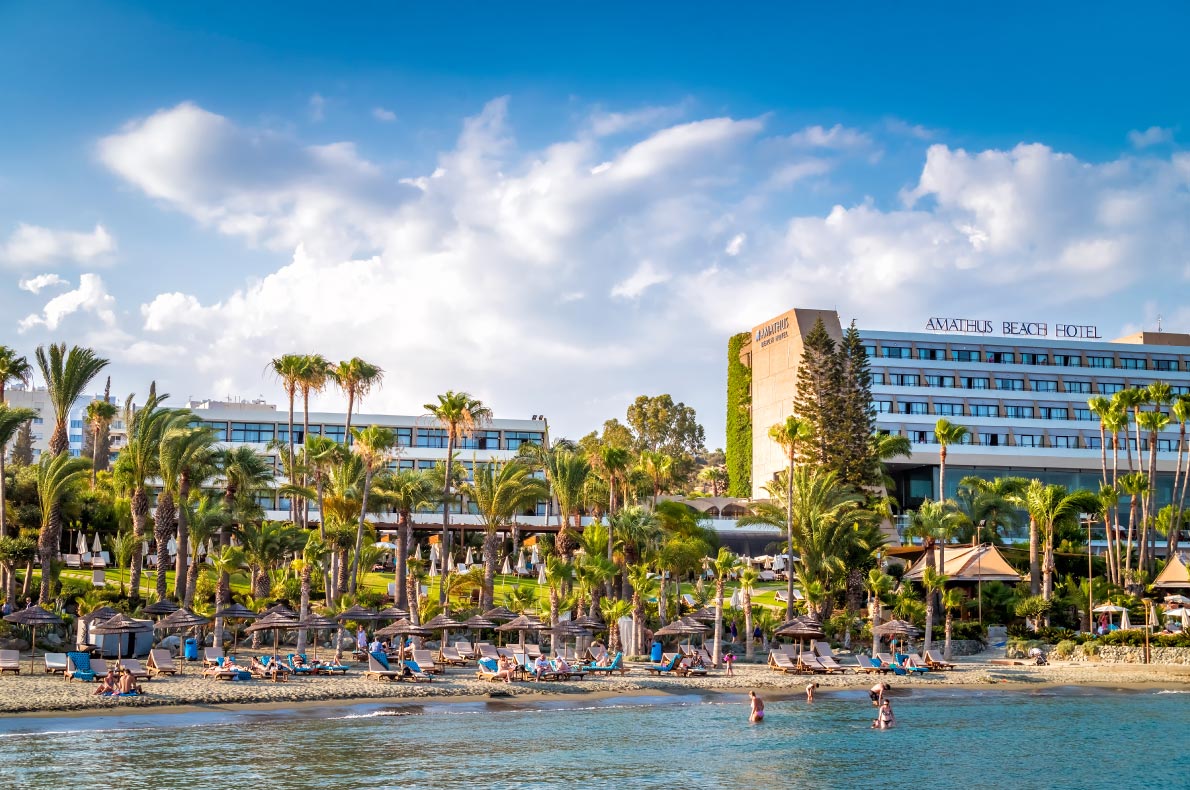 The name "Limassol", the capital of Cyprus, immediately evokes holidays in the sun. Come and discover one of the most beautiful islands in Europe and one of the best destinations in Europe to enjoy the sun all year long.
You can explore the history of the island or its most beautiful monuments or rest on its hot sand, see idyllic landscapes, go diving or just sunbathe on the "Pissouri", "Santa Barbara" or the "Vrysoudia" beaches. They all fly the "Blue Flag".
The island is perfect also for sailing, water sports, walks, shopping. 
 How to get there: Book your flights to Larnaca International Airport, your accommodation in Cyprus and your tours & activities in Cyprus.
 Where to stay: "Amathus Beach Hotel" with direct access to the Mediterranean beach
7. Bora Bora
Tahiti - French Polynesia
Even though it is far from Paris, this is France, French Polynesia to be exact. The island of Bora Bora is a real small paradise on earth. Small because it is only 8 km long and 5 km wide.
Come and discover its extinct volcano, its lagoon, its reef. The real name of the island is "Pora Pora" which means "the first born" because it is the first volcanic island of this archipelago to have emerged from the ocean. People now call it "Bora Bora" because it's easier to pronounce.
Book your accommodation on the island of Bora Bora as well as your tours and activities such as a private whale-watching tour. 
 How to get there: Book your flights to Motu Mute Airport, your accommodation in Bora Bora and your tours & activities in French Polynesia.
 Where to stay: "Le Bora Bora by Pearl Resorts" overlooks the turquoise waters of the Bora Bora Lagoon.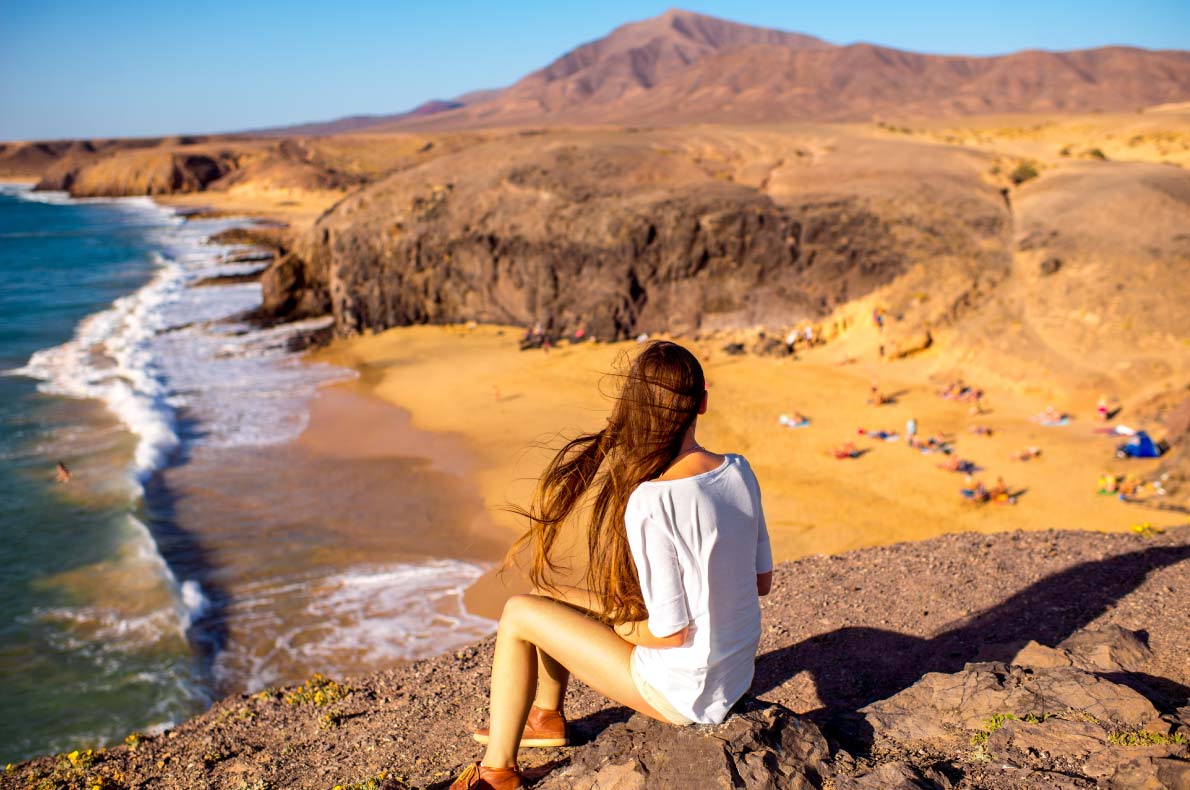 This Canary Island enjoys permanent sunshine throughout the year. Lanzarote has a favourable microclimate and more than 2500 hours of sunshine a year, a record in Europe. The temperature in winter is never lower than 14 degrees (57 F) and goes up to 20 degrees (68 F) on sunny days.
This island is perfect to rest, to sunbathe on the beach and to discover the main attractions of the island such as the Timanfaya National Park. 
Book your activities & tours in Lanzarote such as a "Volcanoes and Caves Tour" or a "2.5 hour Sunset and Dolphins Cruise" and book your accommodation in Lanzarote.
 How to get there:
 Book your flights to Lanzarote, your accommodation in Lanzarote and your tours & activities in Lanzarote.
 Where to stay: "Las Costas" located close to a golden sandy beach and the "Iberostar Lanzarote Park" with pool and sea views.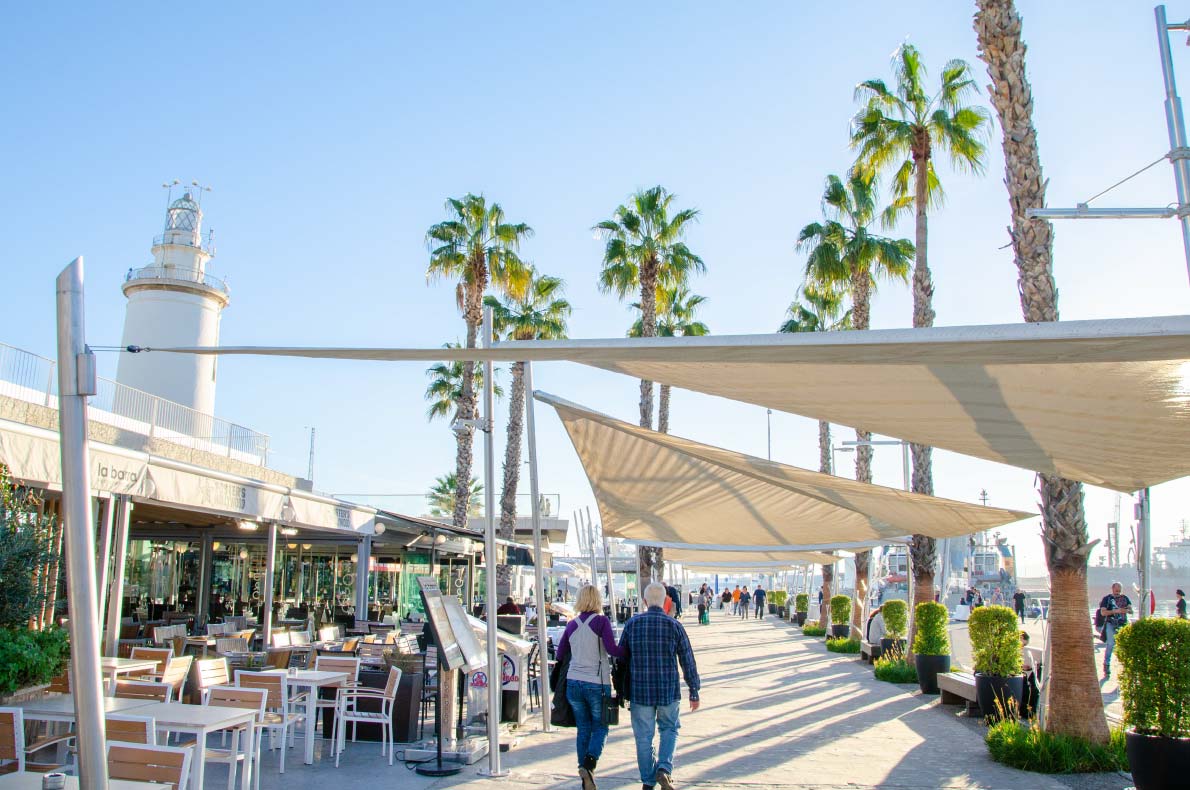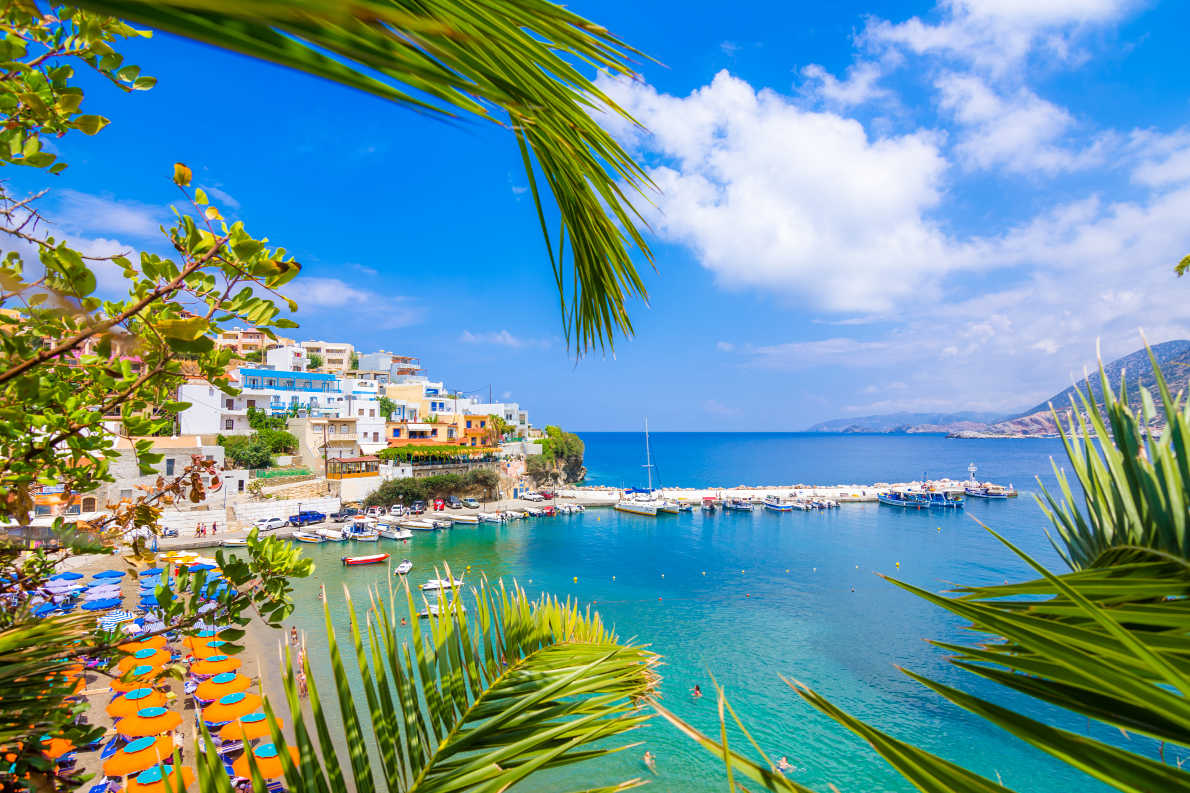 Discover the vineyards of Crete and the famous Cretan diet known to make centenarians of its inhabitants. But perhaps their secret is not in their olive oil, in their wine nor in their diet based on fish and vegetables, maybe this longevity and joy of living comes from the incredible sunshine they enjoy.
During December, the 'worst' month of the year, you are sure to enjoy at least 5 hours of sun a day (compare this with 1 hour a day in London) and temperatures reach an average of 17 degrees (63 F).
Do not waste time and book your hotel, B&B, apartment in Crete and your tours and activities such as an "afternoon sailing trip to the Dia Island" or a full day tour of Heraklion. 
 How to get there: Book your flights to Chania or Heraklion Airports,
your accommodation in Crete and your tours & activities in Crete.
 Where to stay: "Nostos Beach Boutique Hotel" located just steps from the beautiful Bali Beach.

Plan your trip to Europe
Hotels, Apartments, B&B...

Fresh deals every single day

Thousands reviews you can trust

Tours, Sightseeing & Activities

 

Discover Europe's biggest collection of things to do and guided tours.

Whatever you want to do you'll find it here.