From 23rd November to 30th December 2018
The oldest Christmas market in Europe, the Christkindelsmärik was first held in Strasbourg in 1570. With its 300 stalls, spread out over 12 locations in the city centre, the authenticity, warmth and generosity of Strasbourg Capital of Christmas form an Alsatian tradition which has been successfully maintained ever since.
The spiritual environment and traditions of Advent are well established in Strasbourg. You will find 4 outstanding Advent concerts, a Living Nativity and a wide range of authentic live music and cultural events. It's the perfect opportunity to go on a cultural trip through time!

Best hotel deals
for Christmas in Strasbourg

Tours & Activities
in Strasbourg

Christmas in Strasbourg
image gallery

Top things to do
for Christmas in Strasbourg
The Christmas market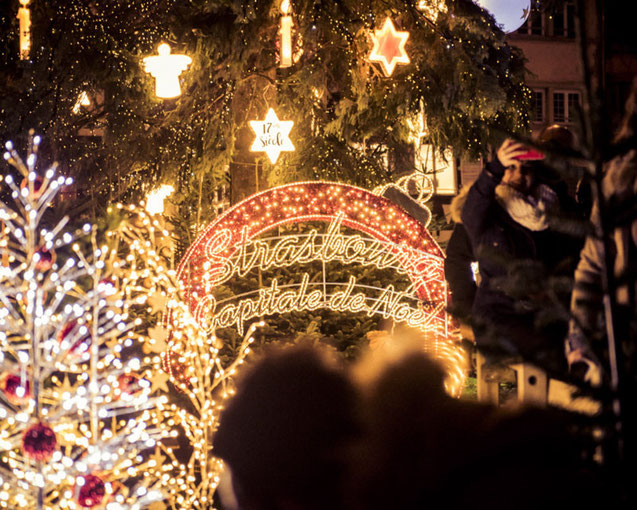 Strasbourg invites you to take a journey back in time to enjoy the magic and traditions of the city's Christmas market. Largely given over to craftwork and Christmas decorations, the Christmas market has successfully managed to preserve the authenticity and spirit of the festive period. You'll find craft and other gifts in every stall to place on and around your Christmas tree.
Wake up your senses with the many pleasures of a Strasbourg Christmas!
The Great Christmas Tree, place Kléber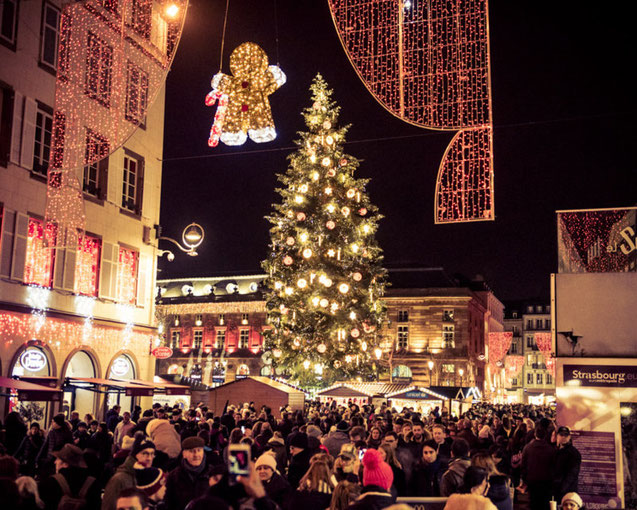 The Great Christmas Tree towers 30 m above the city centre. Grown in the Bois-de-Champ in the Vosges mountains, it is a major and instantly recognisable symbol of Strasbourg, Capital of Christmas. This huge, majestic tree with its many lights and coloured lamps fills place Kléber with a cascade of colours which will set your imagination alight.
The Children's Village, place Saint Thomas
Welcome to the magic of Christmas, an event for all the family, where the eyes of our children shine with excitement.
Pride of place at this year's Children's Village is the wonderful world of the circus, where you can experience the joys of an acrobatic, fun-filled Christmas and marvel at the creativity and imagination of the interactive games and circus acts - an event for the whole family to enjoy!

Best Christmas Destinations in Europe