Situated in southern Poland, Krakow is one of the country's most ancient cities and its former capital and a real pearl in its crown. The city lies on the banks of the Vistula River which is called the Queen of Polish Rivers. Krakow receives visitors from the whole world.
The town is filled with monuments and is impossible to visit in just one day which is not really enough to experience the emotions this city can evoke. Its unique atmosphere has inspired artists and writers. Visitors fall in love with Krakow and if they leave, then it is only to return another day. The city's rich cultural and artistic life contributes to this fascination as much as the genuine character of its streets and little squares lined with restaurants serving local delicacies.
The range of accommodation and gastronomic services is very wide and easily available, which makes planning a trip to Krakow very straightforward. It is also a base from where to visit southern Poland. Zakopane, called "the mountain capital" of Poland and Wroclaw are within easy distance from Krakow.
Tours & Activities
in Krakow
Top things to do
in Krakow
Wawel Castle
The Wawel Castle is the first renaissance castle and is one of Europe's finest examples of Renaissance architecture built in Poland. It is open to visitors and the many valuable works of art, and antique furniture are certainly worth seeing.
St. Mary's Church
The gothic St. Mary's Basilica situated in the vicinity of the town square was built in the fourteenth century. Its main attraction is the world's greatest wooden altar, sculpted by Wit Stwosz (Veit Stoss). This church is also well known for its bugle-call played every hour from the top of one of the towers.
Town Square (Main Market Square)
The Town Square, situated at the heart of Cracow's Old Town, is included on the UNESCO list of the World Heritage Sites. It is the largest medieval town square in Europe, measuring 656 square feet.
In the past, it was a marketplace and the location for numerous official events.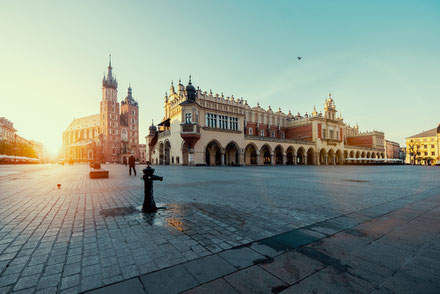 Kazimierz
Kazimierz is a district best remembered as a former Jewish settlement. It was founded in 1335 by Casimir III the Great. The whole district was placed on the UNESCO list of World Heritage Sites – the first such case in the world. Steven Spielberg's movie, Schindler's List, was shot in 1993 almost entirely in Kazimierz.
Sukiennice (The Cloth Hall)
Situated at the heart of the Main Market Square, this renaissance building is one of the city's most recognizable structures.
During its golden age in the 15th century, Sukiennice was a major centre of international trade and the source of a variety of exotic eastern products like spices, silk, leather and wax, while Cracow, in turn, exported textiles, lead and salt from the Wieliczka Mine.