Best bars and restaurants in Porto
Porto is a great city for gourmets. Everything is fresh and often at very affordable price.
Sometimes it's nice to indulge yourself with a unique experience, a little extra that makes the difference, a delicious meal in a beautiful restaurant!
Book Restaurant, Porto
Located in the building of the old Papelaria Aviz, this modern and cosmopolitan restaurant opened in August 2011. As you may have guessed this is a restaurant with a book theme where, even the menus are presented in books. This makes for a relaxed and colourful atmosphere.
There is a resident DJ and a bar service which serves cocktails inspired by well known works of literature and writers, such as the 'Mojito Hemingway. On the menu "Cream of peas with sausage meatballs", "Açorda shrimp with roe," "Veal steak with wine sauce" and "the best sponge cake in the universe." 
Rua de Aviz, 10, 4050-259 Porto
+351 917953387
DOP Restaurant, Porto
DOP is short for "Degustar e Ousar no Porto" which translates as Daring and Tasting in Porto
A daring combination of good taste, cosmopolitan sense and a touch of the familiar offers a great gastronomical experience. The restaurant is modernly equipped and offers two different kinds of space: a show cooking, where it all happens fast under your very eyes, and a more traditional yet innovative kitchen and dining room.
Sharing space with DOP within the Palacio is the Youth Foundation, an organization dedicated to promoting creativity and hope for the youth of Porto. Watch this space.
Palácio das Artes, Largo S. Domingos, 18, 4050-545 Porto
+ 351 222014313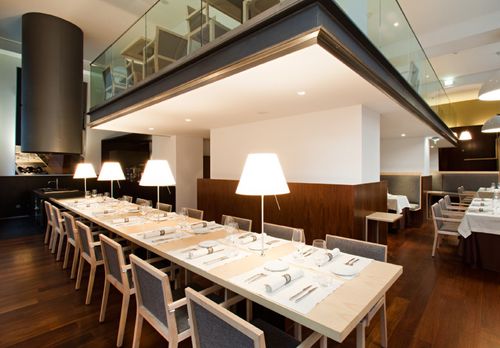 17° Panoramic Bar, Porto
17 is the floor number of the Dom Henrique hotel where you have a 360 degrees view over Porto whilst having a drink or a bite to eat.
Rendez vous with your friends over a drink on the bar terrace hanging 120 meters over the ground terrace and enjoy the uninterrupted view. Open every day between 12 am and 12 pm.
Opening hours : 12:00 to 02:00
Rua do Bolhao, 223 - Porto
+351 223 401 617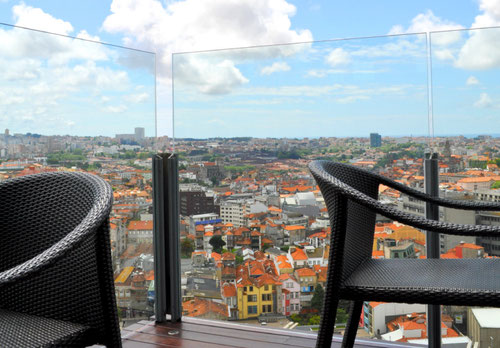 Vinum Restaurant, Vila Nova de Gaia
After visiting the Graham's cellars, book a table at Vinum, one of the best restaurants in Porto. We invite you to choose a table overlooking Porto, the pinnacle ! Relax, you are going to live a great moment. The staff will take care of you to offer you a dinner experience that you will remember for a long time.
Of course we invite you to try the wine list.  Switch off your mobile phone and enjoy a timeless moment in one of the best restaurants in Porto. Note: Prices are very affordable especially if you do not round up your meal with a port wine 1958.
Monday to Friday from 12:30 PM to 4:00 PM and from 7:30 PM to Midnight;
Weekends from 12.30 AM to 4:00 PM and from 7.30 PM to 01.00 AM
Rua do Agro nº 141 (Graham's Port Lodge), 4400-281 Vila Nova de Gaia
+351 220930417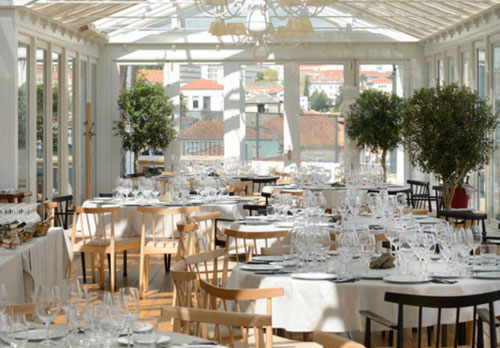 Três Séculos Restaurant, Vila Nova de Gaia
This restaurant in the Taylor's cellars has been open to the public since 1994. It has a spectacular panoramic view of Porto, in particular of its historical centre. Food critics highly recommend the outstanding quality of food and service. This is a Port Wine Restaurant' with a menu designed to enhance over 30 wine labels, among them the famous Taylor Port of course, but also Fonseca, Croft and Romariz Vintages.
Lunch : Mon-Sat 12:30-15:00 - Sun 12:30-16:00
Dinner Mon-Sat : 19:30-22:30
Rua do Choupelo, 250, 4400-088 Vila Nova de Gaia
+351 223742800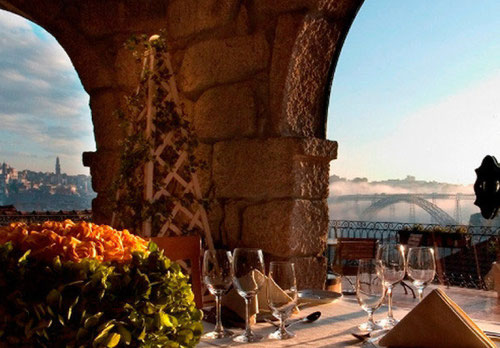 Dom Tonho Restaurant, Porto
You will find the Porto D. Tonho right at the heart of the historical centre, in buildings which date back to the sixteenth, seventeenth and eighteenth centuries. Its granite stonework and the modern fittings lend it a certain style. You may be in luck and get a window table for a beautiful panoramic view of the Douro River and the Gaia riverbank. The cuisine is traditional Portuguese, with a menu governed by the seasons' whims but without ever compromising on quality. Treat yourself to an excellent Port wine.
Specialities : Cod Don Tonho; Júlio Gouveia style Cod; Grilled brill steak; Mirandesa veal steak in Artur Carviçais style; Barbecued veal Barbecued beef steak.
Opening hours : daily 12:30-14:45/19:30-23:15
Cais da Ribeira, 13/15, 4050-509 Porto
+351 222004307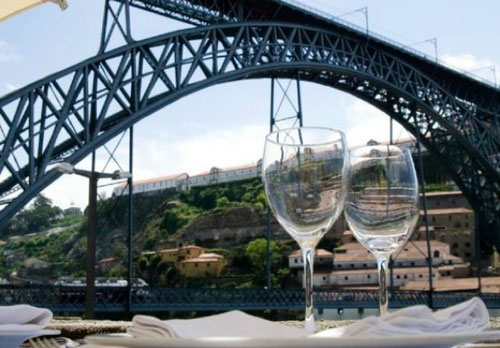 Cafeína Restaurant, Foz do Douro, Porto
If you are looking for a very trendy restaurant where many celebrities meet, this is it ! It is located in the Foz area in a 19th century manor house covered in yellow and black tiles. A sober yet bold contemporary interior gives it its rather exclusive atmosphere.
The menu is inspired by French and Italian cuisine and offered alongside traditional Portuguese dishes. There is also a tea room open in the afternoon from 4pm to 7pm.
Specialties : Spit-roasted anglerfish; Scallop with rosemary seasoning Courette risotto.
Rua do Padrão, 100, 4150-557 Porto
Opening hours : daily 10:00-02:00
+351 226108059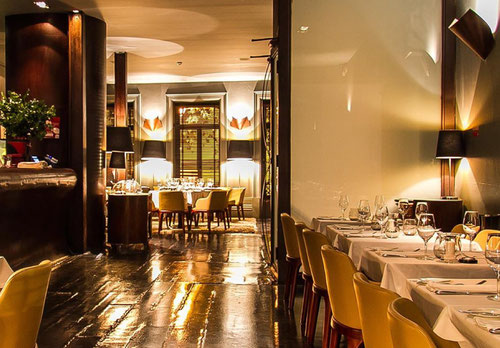 Praia da Luz Beach Bar, Foz do Douro, Porto
During your walk along the seafront in Porto, take a few minutes to relax on the many benches provided by the town or even just on the sand. For those who want to enjoy a drink in a friendly place, cradled by the music of the ocean and the DJ, we recommend Praia da Luz, well located and popular among the locals as well as travelers.
09:00 am to 02:00am
Avenida do Brasil, 4150-155 Porto, Portugal
Phone : +351 22 617 3234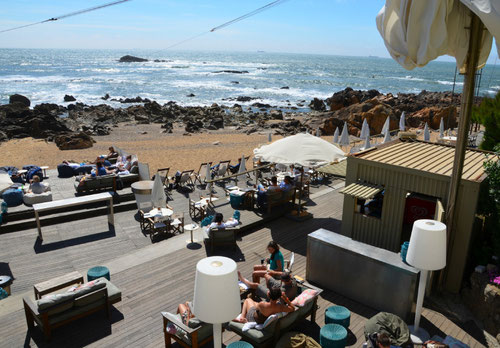 Explore Porto