Skagafjordur is truly a land of adventure for all! Offering a wide variety of activities set in beautiful surroundings.
Whether you wish to go white water rafting down foaming glacial rivers; heli skiing on the Trollaskagi mountain range; horseback riding in an amazing and unique landscape; sailing to the majestic island of Drangey; delve into history through this saga rich region; relax in a natural hot spring; enjoy the magic of the northern lights in the winter stillness; indulge in excellent food prepared from local produce... or just lay back and relax in any one of the many diverse accommodation options available - Skagafjordur is the destination for you.
Skagafjordur is situated near the middle of the North of Iceland, the fjord is about 40 km long and 30 km wide. The drive from Reykjavík only takes little more than 3 hours and from Akureyri about 1,5 hours.
Skagafjordur
image gallery
Top things to do
in Skagafjordur
Glaumbaer Museum
Icelanders living in turf buildings? At Glaumbær you can experience this for yourself, check out the kitchen, stores and living quarters of a rather "well to do" farm.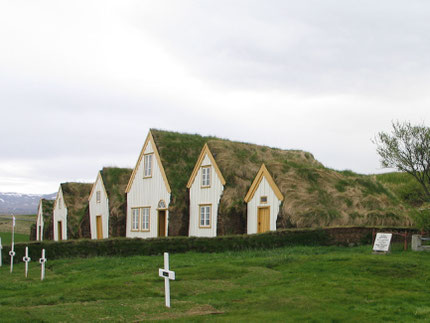 Tannery Visitor Centre
The unique fish leather produced at the tannery has been embraced by craftsmen and designers all over the world, as well as such internationally renowned brands as Prada, Dior and Nike. After a visit to the Tannery Visitor Centre, you will understand why. The boutique offers an example of the wide variety of goods mae from leather, or you can buy leather and skins directly from Iceland's only tannery. These include not only fish leather, but also long-haired lambskin, goatskin, sealskin, calfskin and more.
The Skagafjordur Food Chest
 An essential aspect of travelling to a far off country is getting acquainted with its food culture, not least sampling its unfamiliar national dishes. To taste, to experience and enjoy.
The Skagafjordur Food Chest is a programme which began a few years ago with the aim of getting local producers working together to promote the food culture of the region. Restaurants which are participating in the programme use as many locally sourced ingredients as possible and produce the food according to local custom. The dishes on the menu which have the food chest logo are predominantly made using local ingredients.
All year round visitors are able to access a wide range of local produce in restaurants, shops, markets or even direct from the farmer.
Look for the Food Chest logo and taste the best of Skagafjordur cuisine.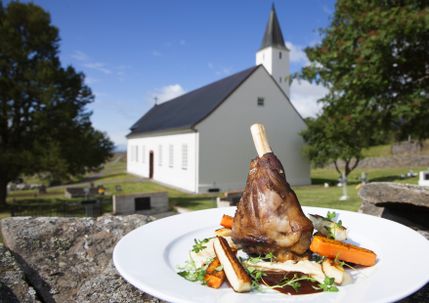 Float - Relax - Enjoy
A warm welcome to Infinity Blue. Hofsós swimmingpool is one of the most popular pools in Iceland, stunning view overlooking the fjord that is surrounded by mountains and midnight baths. Infinity view toward Drangey island is absolutely amazing. 
Floating, is a water therapy focusing on relaxation and mindfulness, while enjoying the beautiful scenery, nortern lights, starry sky or midnight sun, depending on weather and season.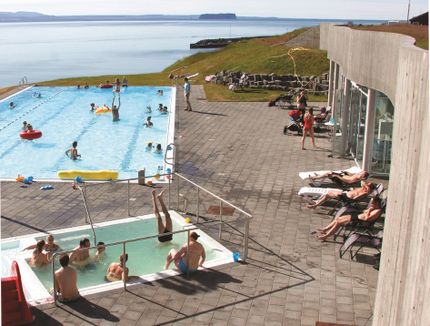 Horseback Riding
Not surprisingly the Icelandic horse has admirers in all regions of the world.  Unlike other breeds the Icelandic horse has remained pure due to its isolation and has as such kept a variety of features that keep it unique and gained it worldwide praise.
Skagafjordur is one of the best known destinations for riders in Iceland, the region is often called the cradle of Icelandic horsemanship.  Here the history of the relationship between man and horse has been interwoven from time immemorial.  Many key ancestors of the Icelandic breed were born and raised here and many renowned horse breeders make their home here.