Tbilisi - The enchanting city
This surprisingly enchanting city fascinates the visitors at a first glance. Tbilisi has the image of harmoniously integrated city of ancient and modern and through centuries it has been home to people of multiple cultural, ethnic and religious backgrounds. This is especially evident in the city's Old Town, where a mosque, synagogue and Christian churches stand side by side. 
Tbilisi is located on the banks of the river Mtkvari. The territory counts more than 6 000 years since having been inhabited, however as the city, it was founded by the King Vakhtang Gorgasali in the 5th century (AD). During the hunting in the woods, king's birds fell into a hot water spring and the king and his servants saw the stream come out of hot water. Surprised by the abundance of hot water, King Vakhtang gave order to build a city on this site, after Vakhtang's death, his successor King Dachi moved the capital from Mtskheta to Tbilisi. Therefore, the name of the city derives from the word "tbili" – warm in Georgian. 
Tbilisi is rich in cultural highlights. Starting with the impressive theaters and concert halls, there are eye-catching performances during the whole year. Tbilisi is always on the move: areas of the city such as Rustaveli Avenue, Aghmashenebeli Avenue, Old Tbilisi, always fulfill city with new life. The city is filled with concert halls where you can choose between world class classical concerts or live performances by Georgian and International artists. Besides, each year various colorful festivals dedicated to national holidays and other events take part in the city. 
Tbilisi is also a paradise for gourmets, where food become arts. Due to its geographical location, Georgian cuisine has absorbed the best culinary traditions of Middle East, Europe and Western Asia. However, despite its influences still managed to remain authentic and full of personality with refined palate. Georgia is recognized as the oldest wine regions in the world, unremittingly developing 8000 thousand years' wine making history. Due to this, in Georgian society and traditions, vine possesses a central position. Therefore, wine has a crucial place in social relations in the country, as well as in its capital city and plays a special role in the traditional hospitality of the citizens.  There is no feast, that goes without wine and Georgian traditional toastmaster – Tamada.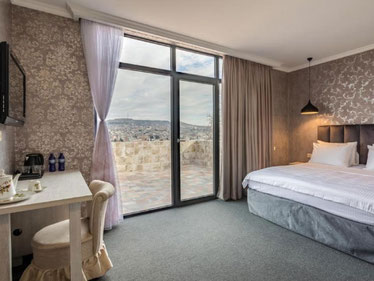 Hotel Day Inn 
★★★★
The 1st Republic Square 200m away
This hotel has an excellent location score of 10.0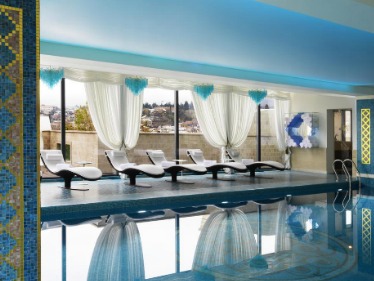 Ambassadori HoteL 
★★★★★
Located in the historic, cultural and nightlife center
Offering a sun terrace and sauna
Top things to do
in Tbilisi
The treasures of the old town
Tbilisi's old town is one of the most ancient and attractive parts of the city - stretched on the mountainside, under the Narikala fortress. It contains a number of officially designated monuments, churches, cobbled streets and picturesque pastel colored wooden houses with open, carved balconies. No one leaves the city without visiting Sulfur Bathes - the distinctive, luxurious and elegant place in the heart of Old Tbilisi. Sulfur Bathes are one of the most prominent, attractive and magnificent tourist attractions of the city.  Among the other bathhouses, Orbeliani Bathes, with its distinctive, luxurious and elegant architecture, immediately catches the eye of any visitor.   The water, full of natural therapeutic minerals, springs from the ground at about 40 C°. 
Hidden gems of Tbilisi
When wandering around the older neighborhoods of Tbilisi, especially in the districts of Sololaki and Mtatsminda, one easily discovers mysterious passages, leading to the leafy and wooden-rich courtyards – an indivisible part of Tbilisi's unique architecture. People often name this type of courtyards "Italian", but they are rather Georgian traditional structure of houses, influenced by European style, as well as Persian caravanserais. Amazing combination of numerous superstructures, overhanging bridges connecting houses, spiral staircases, glazed windows, wooden balconies – the effect is breathtaking.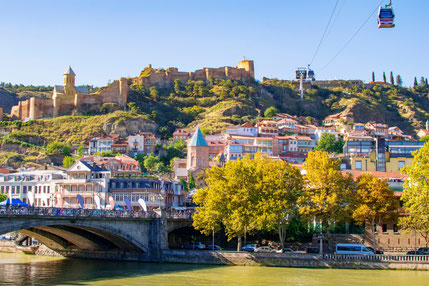 Urban Regeneration
Tbilisi is becoming a home for multiple urban regeneration hotspots and cultural venues with funky industrial elements. Disused sewing factory (Fabrika) or former Wine Factory turned into alternative speakeasies for gathering and socializing are wildly popular among youngsters, both locals and travelers.
These venues became favorite places for artsy bohemian millennials who admire captivating murals by emerging local street artists, concept stores, fusion eateries, craft shops, and art studios. Moreover, wide range of events are taking place such as: flea markets, exhibitions, gaming nights, musical events etc.
New Tbilisi
Tbilisi's diverse history is reflected in its architecture, which is a mix of medieval, neoclassical, Beaux Arts, Art Nouveau, Stalinist and the Modern structures. Its notable tourist destinations include cathedrals Sameba and Sioni, Freedom Square, Rustaveli Avenue and Aghmashenebeli Avenue, Narikala Fortress, the Pseudo-Moorish Opera Theater, and the Georgian National Museum. 
In the scope of "New Tbilisi" project, segment of Aghmashenebeli Avenue and Orbeliani Square were fully rehabilitated. An enchanting Avenues resembles an architectural "mosaic". Here one can find different styles of buildings such as Gothic, Renaissance, Baroque, Classical and Modern. Some of them are accompanied by entrance halls decorated with "Art Salon" style and Rococo ornaments. 
"New Tiflis" areas are pedestrian, where visitors enjoy outdoor cafes and restaurants.
The fusion of old and new
Tbilisi's varied past is reflected in its architecture, which is a mix of ancient, medieval and classical structures. The entire wealth of monuments is shared between two sides of the city. One of the oldest centers of city's cultural and social life – Shardeni street, named after French traveler Jean Chardin, nowadays is the main walking street in Old Town, with fashionable galleries and cafes. Alongside the Shardeni street, one of the most emblematic structures of the city – an amazing Clock Tower is located. Built by the most prominent Georgian puppet master a few years ago, it is decorated with hundreds of tiles, designed by the puppet master himself and since, it became one of the major architectural attractions of Tbilisi. Every day, at 12:00 AM an angel pops out of a door near the top and strikes the bell outside with hammer.