Prague Christmas Markets 2023
From 2nd December 2023 to 6th January 2024
The Christmas markets in Old Town Square in the centre of Prague are the biggest project of its kind in the Czech Republic. Set in the very heart of the city is a traditional Czech marketplace, where, in dozens of wooden stalls, merchants offer typical Christmas goods and items such as traditional Czech blown glass balls, products made of glass pearls or straw, hand-embroidered tablecloths, wooden toys, biscuit cutters and many other things. Both little and grown-up gourmets will enjoy themselves as they'll be able to have a taste of typical mulled wine, Czech Christmas biscuits, hot roasted chestnuts, gingerbread biscuits or typical Czech grilled sausages and skewered foods. 
There are plenty of Advent novelties in store for visitors to Prague this year. The main visual theme of this year's markets is Angelic Christmas, which brings into the heart of the Czech capital motifs of shining golden angels and cherubs that will be hovering above the visitors' heads. Visitors to the markets will see the motifs of angels on the festive Christmas tree and in many elements of original decorations and ornaments. Below the 22-metre tall, lavishly decorated Christmas tree will be a large Nativity scene and a small "gingerbread" village, where both little ones and grown-ups will be able to take an original photo as a keepsake.  
The Christmas markets in Prague lay great emphasis on ecology and strive to be as considerate to the environment as possible. All refreshments purchased and sales material used are environmentally friendly and 100% BIO/COMPOSTABLE.
The Christmas markets in Old Town Square have long been rated as one of the most beautiful Christmas destinations and markets of the world. In addition to the unique atmosphere of historic Old Town Square, the form and design of the ornaments and decorations are unique as well. Every year its motifs and elements are based on Czech traditions but they also bring new original features that always come as a surprise. The main dominant feature of the markets is the more than twenty-metres-tall Christmas tree, embellished by thousands of lights and special ornaments, manufactured exclusively for this occasion. What's more, at the stroke of every hour the tree will be ablaze with a large audio-visual animation accompanied by music and thousands of lights. The Christmas tree will be ceremonially lit up for the first time on Saturday 30 November, when this year's markets start.  
Until the end of the markets, 2nd January 2022, a large stage in Old Town Square becomes the centre of all events featuring a varied programme every day. Visitors will see live performances of folklore, ethnographic and children's ensembles both from our country and abroad. There will also be dance performances and programme blocks for children and adults. A large projection screen is also installed on the multi-purpose stage, where Christmas films, children's fairy tales, broadcasts of Advent concerts and more are regularly shown.  
Christmas in Prague has an unforgettable atmosphere. The Christmas mood begins with Advent, when the city is festively decorated and at many places, esp. at historical squares, Christmas markets are held. Also, the cultural offer carries the spirit of Christmas and it is broad.
The unique atmosphere of the medieval central Prague makes the Christmas Markets at the Old Town Square very popular. In contrast to some bigger markets across Europe, the Prague Christmas Market is sort of familiar, which makes the whole experience more intensive.
The variety of food and beverages sold at the market is very generous. Visitors may look forward to traditional Czech food as barbecued pork, blood sausages, Czech muffins, conkers, beer, mull, mead and other typical gastronomical specialties from Old Czech cuisine.
It's mostly the wood-carved toys, glass-work ware, blacksmith´s ware or confectionery which is sold at the Market. You can buy also every sort of Christmas goods like decorations, chains etc.
The Christmas Market has its own continuous program composed in the Christmas style. The main purpose is to make people feel the Christmas is coming. The Christmas carols will be sung every day by various performers.
Book your flights, your accommodation as well as your tours & activities in Prague and visit one of the Best Christmas Markets in Europe.

Hotels and Apartments
in Prague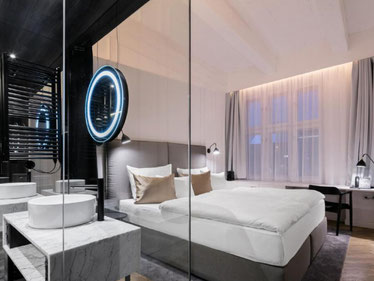 Pytloun Boutique Hotel 
★★★★
The Christmas market is 600m away
High standards, staff, delicious breakfast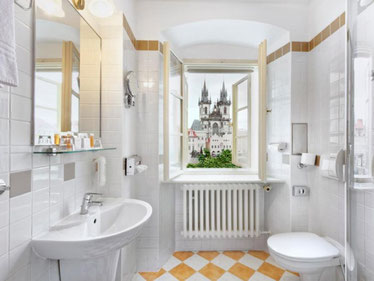 Hotel Lippert 
★★★★
The Christmas market is 100m away
Central location, close to shops and restaurants

Tours & Activities
in Prague

Christmas in Prague
image gallery

Best in Europe.
For an enchanted Christmas in Europe