Cavtat – a hidden Croatian jewel where life is a simple pleasure.
Are you dreaming about a place where life is a simple pleasure? On your doorstep, with a great deal of things to do, to see, to enjoy, to experience. And all this in the Best Honeymoon Destination in Europe and Most Beautiful Bay in Europe.
Let us help you with your search… there is a stunningly beautiful part of Europe, precisely in Croatia, near "must visit" Dubrovnik. It is called Cavtat and is located in Konavle region - so called Croatian Tuscany. 
The picturesque charming town of Cavtat is possibly the most famous place in Konavle region and it is situated only 18 km from Dubrovnik. Its best kept secret is the old town centre that hides many lovely cafés and restaurants. It has a stunning waterfront lined with palm trees and has been described as closely resembling Saint Tropez.
Cavtat is not a place for those seeking clubs and wild nights. It is a place to relax and recharge your batteries while enjoying gorgeous scenery, food and wine. Life goes by slowly in this part of the world, a quality which made this place a desirable destination for a proper laid-back vacation. That's why It is not a miracle that Cavtat in 2021 was elected as one of Top 3 European Best Destinations by those in search of… a place where life is a simple pleasure!
However, if you're looking for a more upbeat nightlife nearby, luckily Dubrovnik is easily reachable by bus or water-taxi from Cavtat. So, if you decide to stay in Cavtat, you can have the best of both worlds. Cavtat is a perfect base for exploring Dubrovnik, recognized by UNESCO as a world heritage site. Far from the hustle and bustle of Dubrovnik this quiet little town has a magical serene feel. In short, Cavtat is busy enough to keep you entertained but quiet enough to offer a bit of privacy.
This nearby part of the world is a wonderful place to explore and be active. There are excellent walking trails (with or without a guide), horse back riding across olive groves plus a coastal ride offering great views, as well as biking routes. You can enjoy wine tasting tours at most vineyards, including sampling of local drinks you may never have tried before! 
If you are more into active holidays, have no fear – Cavtat and Konavle region are excellent for cycling, hiking, horse-back riding, ATV safari, adventure park activities, diving and basically anything to do with nature. 
Whether you're looking for a quiet escape or some action, you can find everything in Cavtat. Take in the fresh clean air while relaxing in quiet hideouts, or big lungful of it while enjoying many of exciting activities.
This is just a glimpse of various possibilities - there is so much to do, see and experience here, with something to suit every taste. You might swim in a perfectly clear sea or stroll around lovely coves, while enjoying marvellous and delightful views of open sea, or perhaps you'll opt for something more active and go scuba diving, rowing, trekking or climbing. Whatever you choose, this is a destination which will not disappoint!
Konavle valley is often compared to Tuscany: it is a must-visit for nature lovers and foodies. It offers peaceful surroundings, breath taking sceneries and excellent restaurants that offer extraordinary local wines  The restaurants and Konobas (local word for tavern – you might want to memorize it, you will need it!) in the region are based on Mediterranean gastronomic heritage: fish, vegetables and olive oil.  And at night, you can lose yourself by gazing at the brightest stars you've ever seen.
How to get there?
The Dubrovnik Airport is in Čilipi, only 5 km from Cavtat. You can come to Cavtat by ferry, through the Dubrovnik port, which is connected by ferry lines with other Croatian ports. Other transport information you can find here. https://visit.cavtat-konavle.com/en/arrival
What to do?
We can just mention some of the places well worth seeing while visiting Konavle region: Dubrovnik, Korcula, Mljet, the River Neretva Delta, the Elafiti Islands, the Peljesac Wine Road, Trsteno, Ston or within 2-3 hours drive: Medjugorje, Mostar, Kotor and many others.
But if you want to wake up the real adventurer within yourself, you simply can't miss these activities:
- The Sea Path – recreational horse riding
- ATV safari - a modern-concept, slightly adventurous field trip during which you can explore Konavle driving small ATV vehicles
- Scenic train ride through Konavle Valley with wine tasting
- Adventure park
- Hiking, Cycling, Free climbing, Diving
What to see?
Even the most demanding tourist will find something suiting their wishes: the beautiful scenery, rich cultural and historic heritage combined with a wide range of services make this town a very attractive destination on the Adriatic coast.
Best accomodations
in Konavle Cavtat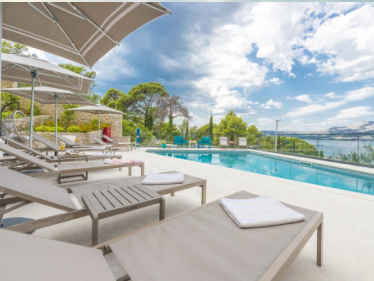 hotel Seventh ★★★

★
0.3 km from centre - Beach nearby
All rooms have a patio with pool view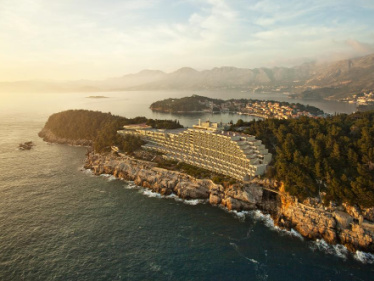 Hotel Croatia ★★

★

★

★
Located on a peninsula overlooking the Adriatic
Enjoy the sun on 2 beaches or at the 2 pools
Top things to do
in Cavtat
Museums and galleries of Konavle
Museums and Galleries of Konavle are public cultural institution engaged in the exploration, processing and presentation of museum holdings and locations in the Konavle area. Museums consist of: House Bukovac and Family Racic Mausoleum in Cavtat, Konavle County Museum in Cilipi and  Deapartment of Archaeology in Pridvorje.
Active holidays
Hiking, cycling,diving, horse back riding, ATV safari, tennis, jet-ski, skydiving and parachuting, boat trips, adrenalin parcs,...
Cilipi folklor
More than 50 years of dancing tradition in the village of Cilipi, place that nurtures traditional values of Konavle that even today reflect through traditional cultural heritage and beautiful Konavle national costumes, well known for their elegance and characteristical silk Konavle embroidery.
Renault 4 cabrio tour by Konavle travel
The real adventure and unforgettable experience of Konavle region with vintage Renault 4 cabrio, a driving tour with a difference. Participants can choose to drive or to be driven: four passengers in a car. Weather permitting, there is optional swimming in the small village and lunch is served in a 15th-century olive oil mill. Afterwards, transfers are arranged from Konavle to the hotel by coach. 
Gastro & Eno offer
The gastronomic and oenological offer of Konavle is an integral part of the entire tourist offer, the sentiment and the atmosphere of the Konavle region.
The restaurants and konobas in Cavtat base their gastronomic offer on the Dalmatian and Mediterranean cuisine: fish, vegetables and olive oil, and they seek for and follow the modern gastronomic trends. In numerous taverns and rural houses, the inland of Konavle offers traditionally prepared plain fare and healthy food in a unique atmosphere of the old Konavle houses. 
Among a number of authochtonous wines, the most famous one is Karaman Malvasia of Dubrovnik, the winner of the World of Malvasia competition and the proud holder of title Champion of the World. The book tells about the history of this wine and dates it to 1383 and times of Dubrovnik Republic, when this wine was a protocol gift of the Republic.