There is no other place like Gdansk. Other cities can just resemble Gdansk. Its unique location and over a thousand years' history shape Gdansk's expressive and distinctive character and give it strong and implicit recognition among European cities. Nonetheless, the city holds an abundance of mysteries; it has got its own spirit which makes it impossible to mistake Gdansk for any other place.
There is no Gdansk without freedom. Courage, freshness, but first of all freedom; for centuries people of Gdansk have highly valued this virtue which in turn has shaped the city's unique "genius loci". Not only can one sense it among the Old Town's patrician houses, but also amid the Young City's shipyard cranes and on beautiful, sandy beaches as well as in post-industrial halls, in parks and tunnels. Freedom is ubiquitous in Gdansk, it is almost tangible, and it is the source of inspiration. It transforms space and people.
Contemporary Gdansk is a modern metropolis, a thriving centre of culture, science, sports and entertainment; it is also an attractive tourist destination and the world's capital city of amber. It comes as no surprise that Gdansk, also famous for its breath-taking Stadion Energa Gdańsk was one of the host-cities of UEFA EURO. 
Gdansk has become a focal point for debates on the present-day world. Gdansk stimulates art and fashion designers' imagination, inspires artists and attracts most innovative economic trends. The city is also a robust conference venue – the new investments (Lech Walesa Airport, AmberExpo Exhibition and Convention Centre and newly opened hotels) act like a magnet for thousands of business tourists.
Since Gdansk is the city of cutting-edge technological innovations, conference and business meeting participants can make use of the GCBeVENT. The event application, one of Poland's pioneering solutions is available free of charge. GCBeVENT is available for the 4 operating systems – iOS, Android, Windows Phone and Blackberry; not only does the application come handy in organisation of events ranging from conferences, thought trainings to city games, but also complements the event offer.
Gdansk, an intriguing and life-throbbing city has been recommended by the renowned British guidebook publisher – Dorling Kindersley Eyewitness Travel as one of the top ten must-see tourist hits in the world. The New York Times journalists have included Gdansk in their list of the world's forty cities praised for being tourist-friendly.
We are looking forwards to seeing you in Gdansk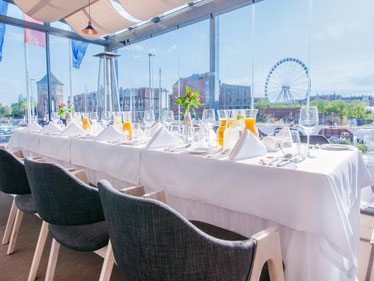 From €66 / night
Enjoying a prime location in the centre of Gdańsk
Flat-screen TV and air conditioning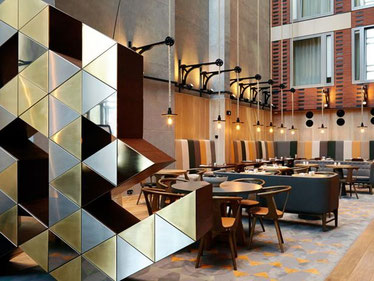 From €78 / night
Located in the centre of Gdańsk
Free WiFi and free bikes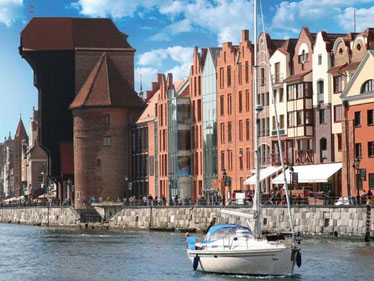 From €84 / night
Located in the heart of Old Town Gdańsk
Access to fitness centre and a wellness centre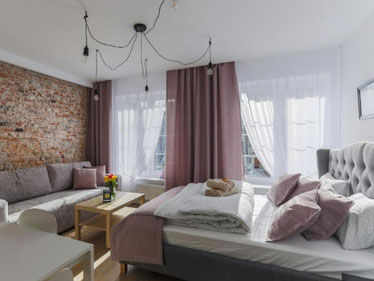 From €80 / night
This is our guests' favourite part of Gdańsk
Kitchenette, fitted with a stovetop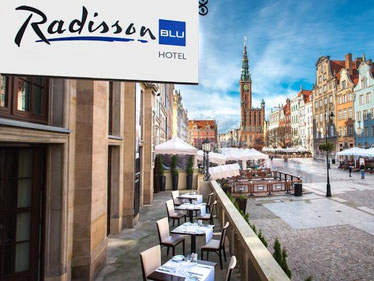 From €127/ night
Situated in the heart of Old Gdańsk
Stunning city views and stylishly designed rooms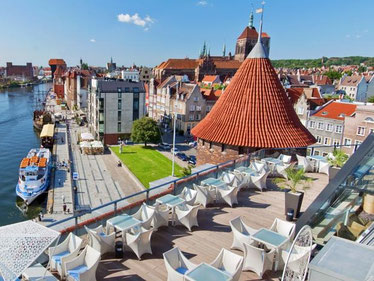 From €96 / night
Located in Gdańsk's Old Town
Swimming pool on the top floor
Tours & Activities
in Gdansk
Top things to do
in Gdansk
The Crane
The oldest sources mentioning the Żuraw as wooden port crane equipment date from 1367. Its present look refers to the image of the middle of the 15th century. The first wooden crane totally burnt down as a result of the 1442 fire. A new crane was built in the years 1442-1444. The crane had a defence function.
Artus Court
Artus Court is a complex of buildings forming a branch of the Gdańsk History Museum, located within the Main City boundaries and forming a part of the representative city route called the Royal Route. Długi Targ located near the historical harbour on the Motława river forms part of the route.
Vistula Mouth Fortress
A unique monument of the fortification works, Wisłoujście Fortress, is located in direct proximity to the Westerplatte peninsula. This was an important area from a strategic point of view, as the movement of ships entering and leaving Gdańsk harbour could be controlled from this place.
St. Mary's Church
The largest church in Gdańsk, and also in Poland, and the biggest brick church in the world, St. Mary's Church is a special place not only due to its size, but due to the centuries of history which are enclosed inside it. St. Mary's Church in Gdańsk, properly called the Basilica of the Assumption of the Blessed Virgin Mary, is the finest historical building in Gdańsk.
Villa Patschke
Going up the Wrzeszcz district, right at the Wedding Palace is an exclusive building - Patschke Villa. As the name suggests it was build by Rudolf Patschke, who at the beginning of the century was one of the wealthiest inhabitants of Gdańsk.