Situated atop a hill, 18 km from Senigallia seaside, Corinaldo, with its medieval and Renaissance urban plant, is defended by an unbroken circle of about 1 km of walls, among the best preserved of Marche region. Due to its homogeneity of materials and architecture, the old town appears to be unique and with a striking look as it contains numerous important Baroque and Neoclassical monuments.
You can reach Corinaldo from Falconara airport or, if you prefer travelling by train, the nearest railway station is that of Senigallia, daily connected by bus to Corinaldo. Once you are here, you can choose among b&bs, apartments and farmhouse stays: elegant palaces in the city centre or beautiful villas in the countryside, in both cases with kind and professional hosts. Corinaldo is also happy to welcome tourists with camper vans: a dedicated free area was recently realised, just outside the city centre.
All year round something special animates this town, making it a true "City Stage". A cultural enthusiasm, a hive of activities expressed by the many association that show the love and care of Corinaldo people for their town and transform it every day. From "Corinaldo Jazz Festival" to Christmas events, through the annual "Contention of the Polenta Well" and "Halloween – The witches' festival": every moment of the year is a perfect time to discover this little town. Not to miss one of the many live exhibitions inside the precious 1900th century Goldoni Theatre, choosing among concerts, theatre pieces or contemporary dance exhibitions.
Corinaldo can also be the perfect place to discover the surroundings, since is really close to the beach and placed in a territory with a very rich cultural heritage. At a short distance you can visit the Mondavio fortress, the medieval towns of Ostra and Morro d'Alba, Arcevia's castles and Pergola's gilded bronzes. 
Only one hour of car brings you to Urbino's Ducal Palace, the Conero Riviera or the Frasassi caves.
Top things to do
in Corinaldo
Take a walk along the city walls
Corinaldo has a very evocative historic centre and its walls are certainly its most important monument: about one kilometer of fortifications dating from 1367 and extended at the end of 1400, interspersed with bastion doors, powerful polygonal bastions, towers and lodges.
A nice walk along the circuit is the first thing to do here: going up on the towers to check the view you will feel like a sentinel looking for enemies while gazing at this landscape of gentle hills.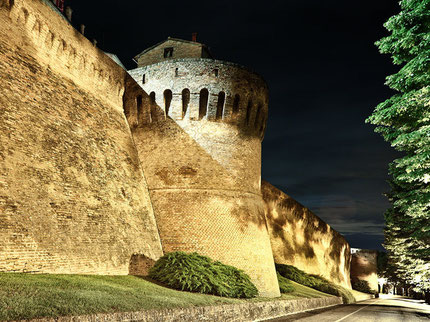 Discover local stories
True gem of the historic centre is La Piaggia, one of the 12 most beautiful flight of steps in Italy. Here you can run across the object around which a pretty famous anecdote was born: the polenta well. Corinaldo can boast many stories that earned it the fame of "City of the madmen" and visiting the town you can satisfy your curiosity about it, seeing for yourself Scuretto's house and the fig cannon too. Finally, you can request the fool's passport at the local Tourist Information Office.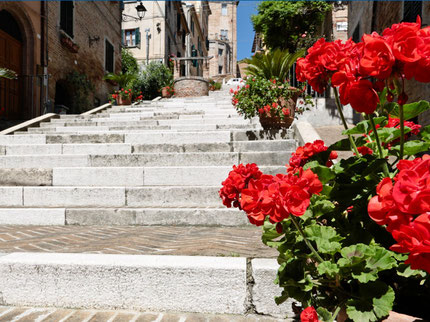 Visit Maria Goretti's birthplace
Corinaldo is famous in the Catholic world for being the birthplace of Maria Goretti, a virgin martyr that died in 1902 when she was only 12 years old and was declared saint in 1950. Still today the town keeps the memory of Maria alive: in the city centre you can visit the Sanctuary dedicated to her, while at a short distance sits the house where she was born. This place is a testimony of faith but also of rural life, thanks to the original furniture and tools from the Goretti family.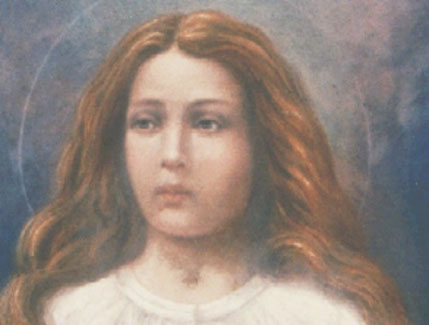 Enjoy local art treasures
Art has a big role in this town: from the Early Christian church of S. Maria in Portuno and the remnants of the ancient roman town called Suasa, with beautiful mosaics and a big amphitheatre up to modern and contemporary art pottery in the Bojani collection. 
The "Claudio Ridolfi" Civic Art Gallery, in its prestigious venue, will pleasently surprise you with treasures of all kind: paintings, sculptures, statues, made of silver, alabaster and gold leaf, just waiting to be discovered.
.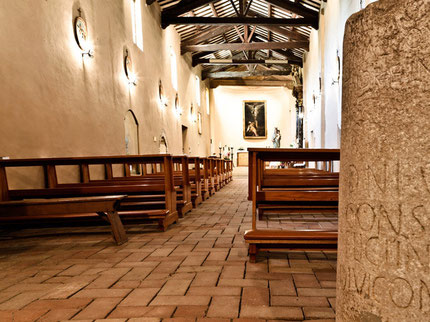 Taste local specialities
Before you leave, enjoy a nice tour in the countryside around Corinaldo: there are many cyclo-pedestrian routes running through the hills far and wide and allowing everyone to experience the landscape with its rhythms, discovering precious gems along the way. Why not take a break to visit a farm and taste a glass of Verdicchio or try a little extra-virgin olive oil? These are two of the many products of excellence of these hills: they go from saffron to liquors, from honey to aromatic herbs and truffles.