Bonifacio, picturesque capital of Corsica
The author, M Valéry, like Charles V or Napoleon Bonaparte was subjugated by the extreme beauty of Bonifacio.  He resumes in two well-chosen words – picturesque capital – the strong sensations and unforgettable souvenir offered by the "City of Cliffs".  It has to be said that with its millenary fortress, its 5 historical monuments, its houses perched 60 meters over the sea and its 120 kilometers of coastline, Bonifacio has more than enough to satisfy curiosities and fulfill desires.
Bonifacio, an open-air museum
Roman emperors, Pisan and Genoan State Chiefs, the visits of Charles V and Napoleon Bonaparte … Bonifacio's past has welcomed many visitors, each more famous than the other.  And the present still welcomes many: Bonifacio organizes numerous spectacles and exhibitions inviting many well-known international and local artistes from all the arts.  Not forgetting its numerable military and religious architectural treasures making Bonifacio "an open-air museum".
Bonifacio, a star attraction
Situated in the middle of the International Marine Park, the port of Bonifacio is set in the heart of a channel, a thousand nautical miles long.  It offers total protection in all weathers and winds.  But above all, a stop-over to satisfy sailors with top-level sea food gastronomy, numerable bars and terraces with the possibility of all types of provisioning only a few meters from the pontoons.
Bonifacio, the other garden of Eden
Bonifacio is rich with rare and protected species.  The Cory's Shearwater seabird is part of family of the Albatross, the African Fish Eagle planes over Sperone and wild orchids, found nowhere else in France, cover the country-side.  And marine mammals of all kinds ((the common dolphin and the White-Blue Dolphin) are omnipresent all year long.
Bonifacio, flavors and colors of the South
Sky-blue, navy blue, turquoise, Bonifacio also offers red and white with its AOC (controlled designation of origin) wines which accompany the spiny lobster of local fisherman … Green is the Bonifacian specialty of eggplants and the locally-made olive oils accompany our local well-flavored sheep and goat cheeses.  From the cliffs, the delight is not limited to the eye.
Bonifacio is an indispensable stop in the extreme South, a true all-in-one Corsican destination.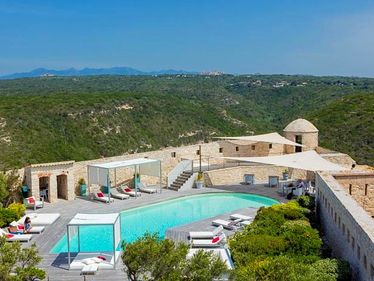 Hotel Genovese  ★★

★
6-minute walk from the beach
Cliff top position with panoramic views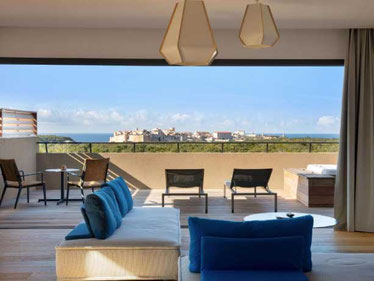 Hôtel & Spa Maquis 
★★★★★
800 m from centre of Bonifacio
Year-round outdoor infinity pool, spa and fitness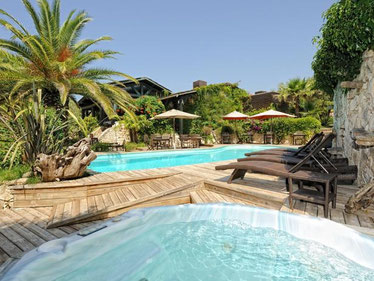 A Cheda ★★

★★
Located at the entrance of Bonifacio
Outdoor pool, hot tub, sauna and body treatments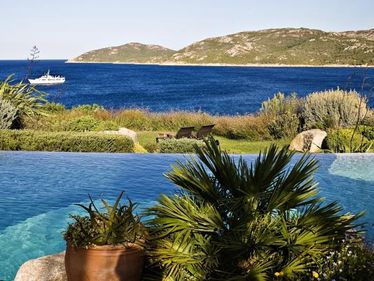 U Capu Biancu ★★

★★
5 minutes walk from the beach
Views of the bay and 2 private beaches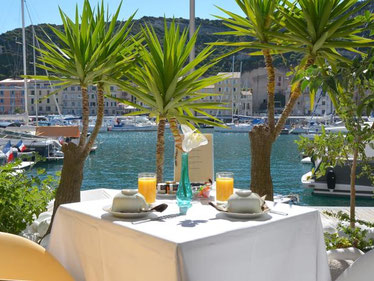 Solemare 
★★★
Located in the heart of medieval Bonifacio
Swimming pool, a bar and air-conditioned rooms