In the blue Atlantic Ocean, between Europe and America: the islands of the archipelago, an autonomous Region of Portugal, are divided in three geographical groups: the Eastern Group, comprising Santa Maria and São Miguel, the Central Group, including Terceira, Graciosa, São Jorge, Pico and Faial, and the Western Group, composed by Corvo and Flores. Brought together in an archipelago, each Azorean island has its own identity. Even if they all share an extraordinary natural legacy, they also have their own unique strokes in their landscape, traditions, cuisine and architecture.
There are no words capable of describing and classifying the charm of these nine charismatic islands. They have been sculptured by ancient volcanoes and populated over the centuries by courageous and kind people. Thus the Azores are a place of varied experiences and emotions.
There are so many activities to do in these beautiful islands. Walking around stunning landscape marked by dense coastal woods, play golf of one of the best and least exploited courses in the world (considered by the IGTM – International Golf Travel Market) and relax in natural carbonic water, waterfalls and iron water pools are some activities that you can enjoy. Whale watching, canoeing and kayaking, sailing, horse riding are other activities that Nature has to offer.
Visiting Angra do Heroismo city and the Landscape of the Pico Island Vineyard Culture, World Heritage listed by UNESCO are other experiences that you can discover.
Best hotels
in The Azores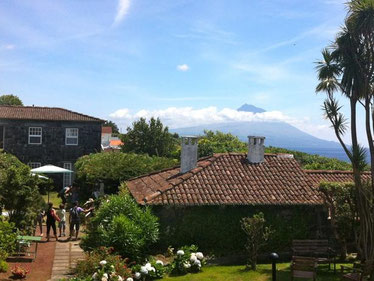 From €70 / night
Located 600 m from the small island airport
Rooms with sea, mountain, garden views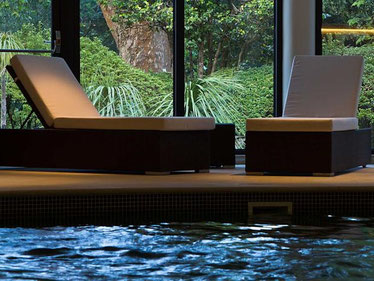 From €122 / week
Next to the Terra Nostra Botanical Park
Indoor and outdoor pool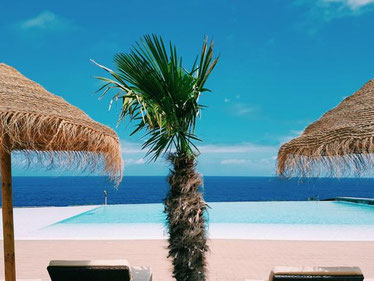 From €96 / night
Located 9.7 km from Ponta Delgada
You can play tennis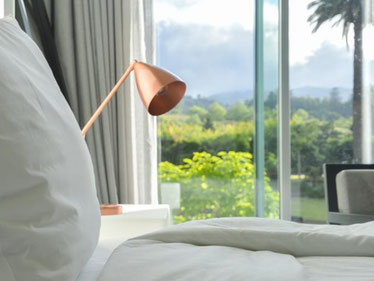 From €122 / night
Located in São Miguel Island
Swimming pools and a Spa & Wellness centre
Tours & Activities
in The Azores
Top things to do
in The Azores
Hiking
There is a network of approximately 70 mapped trails, classified in accordance with their level of difficulty, distance and type of route (linear or circular). As you walk inland from the coast, you will enjoy a stunning landscape marked by dense coastal woods, juniper trees and the remains of laurissilva forest. But there is much more than just vegetation: volcanoes, waterfalls, vineyards, typical homes, windmills, fishing boats and corrals. What's more, on the coast, there are tidal pools nestling amongst rock formations, great for a refreshing swim!
Swimming with wild dolphins and whale watching
The Azores is one of the best places in the world for whale watching. Around 25 resident and migratory species can be seen including the magnificent sperm whale and blue whale
The sperm whale (Physetermacrocephalus) is amongst the most common: the same giant of the seas that was immortalised in the classic book, Moby Dick. Other whales can also be seen, such as the blue whale (Balaenopteramusculus) and the fin whale (Balaenopteraphysalus), as well as several species of sharks, turtles, dolphins, and many other fascinating marine animals.
Culture and Gastronomy
If you are looking what to see in Azores, these islands are marked by their quality and excellence, where what is genuine and unique marks the difference and imposes, contributing to the development of the region's natural and cultural heritage.
If you are looking what to taste in Azores, there's a rich gastronomy, based on regional products of excellence, as seafood, fresh fish, meat, tea, cheese, wines, soups, sauces and pastry, all locally produced.
Unesco World Heritage Sites
The classification by UNESCO of the historical centre of Angra do Heroísmo since 1983, and of the Landscape of the Pico Island Vineyard Culture, classified in 2004, asWorld Heritage Sites is very an important recognition for the archipelago, as also is the classification of the islands of Graciosa, Flores and Corvo as Biosphere Reserves. Also, the Azores Geopark has joined the European Network and Global Geoparks Network in March 2013.
9 Islands to Visit
To travel throughout the Azores is to get to know nine islands where the same genetic code generated profiles that are distinct from one another. The long lists of natural parks, of areas of protected landscape, of protected fauna and flora species, of forest reserves, of geolandscape, and of sites with geological interest guarantee the preservation of a priceless natural legacy. As a form of compensation for all of this effort, the Azores are considered to be a sanctuary of biodiversity and geodiversity and one of the best locations for Nature Tourism.