From 25th November to 24th December 2016
The enticing aroma of gingerbread, mulled wine and grilled sausage hangs in the air at the Nuremberg Christkindlesmarkt. First mentioned in 1628, its roots probably go back to the time of Luther, when the tradition of giving children presents at Christmas evolved. Ever since then traditional wares such as handmade Christmas decorations and culinary treats have been offered by the 180 wooden stalls, decorated with red and white canvas. Take a stroll through the festively lighted lanes between the stalls and discover the enchantment of the unique atmosphere. 
The "Christkind" with blond curly hair wearing a golden crown and golden white gown opens "its" market traditionally on the Friday before the first Advent. "You men and women who once were children, be young again", proclaims the "Christkind" when she welcomes guests to the Nuremberg Market Square. And she is right - because with a bit of childish enthusiasm over the Christmas tree decorations, tinsel angels, wooden nutcrackers, cribs and colored stars, you enjoy walking through the romantically lit Christmas Market twice as much. 
The Nuremberg Christkindlesmarkt not only places the greatest importance on offering traditional wares, but also on sustainable development. Thus environmental aspects are set on an equal par with social and economic aspects. For example, all mulled wine dealers work with a reusable cup system. This saves energy and avoids a large number of disposable containers. Furthermore, the Christkindlesmarkt has been supplied with regenerative energy from regional hydroelectric plants and photovoltaic power plants since 2012.
Don't forget the culinary delicacies the city of Nuremberg stands for. Whereas gingerbread has its peak season during the Christmas period, the finger-sized grilled sausages are eaten all year long. Equally worth trying is a crackling pork shoulder with a dumpling or a Franconian carp. A glass of Franconian wine or a cool beer can be drunk with the regional specialities at one of the private Franconian breweries.

Best hotels for Christmas
in Nuremberg
From €84 / night
In the centre of Nuremberg Old Town
A fresh breakfast buffet is available 
From €103 / night
The Old Town is just steps away
Grand Hotel Nürnberg's sauna
From €119 / night
Perfectly located for business and leisure 
Hotel bar and a signature restaurant 
From €143 / night
400 m from Old Town Nuremberg
Free WiFi throughout the property
From €102 / night
Just 100 m from Nuremberg Train Station
Homemade cakes, ice cream creations
From €144 / night
Set on the edge of Nuremberg's Old Town
Each rooms feature extra-long beds

Tours & Activities
in Nuremberg

Christmas in Nuremberg
image gallery

Top things to do
for Christmas in Nuremberg
Try the Nuremberg Lebkuchen (gingerbread)
In Germany, when you think of Christmas, you think of Nuremberg Lebkuchen, the city's famous gingerbread. These sweet and spicy treats have been baked for more than 600 years and are loved by young and old alike.
According to legend, they were named after Elisabeth, the daughter of a Nuremberg gingerbread baker. The girl grew very ill, and as her father loved her so much and no doctor could help, he started baking a new kind of Lebkuchen. It contained only the finest ingredients and no flour. So the girl grew healthy.
Since then, Nuremberg is Lebkuchen: 70 million are produced each year and enjoyed around the globe. Meanwhile they are even trademarked by their geographic location under European law. Whether chocolate- or sugar-coated or decorated with almonds, the recipe for gingerbread is a tightly guarded secret. But you can take a peek at the bakery: at the Christkindlesmarkt in a thatched-roof honey and gingerbread house.
A Stagecoach Tour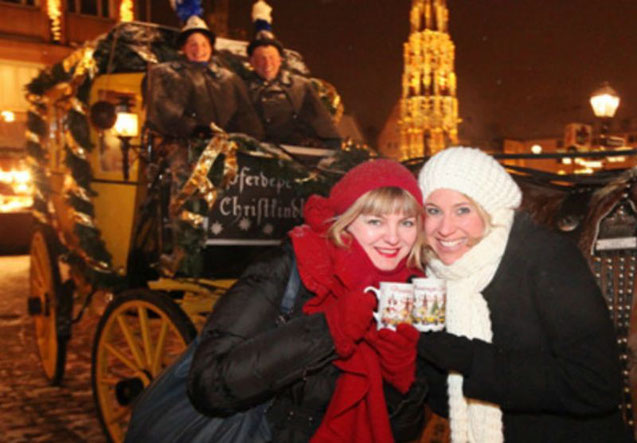 The joyful sound of bells and the clatter of hooves tell you that the stagecoach is coming to the Nuremberg Christmas Market. As soon as the yellow wagon appears, visitors large and small excitedly turn to look. Many wave to the passengers, others pull out their cameras and phones. 
The stagecoach is a 1939 reproduction of a nine-seater Berlin with two coupés – that is two compartments – from 1874. The Museum for Communication supplies this and another coach from 1950 for the popular tours of the Christkindlesmarkt.
In harness stand two Rheinland Heavy Draft horses, which pull the carriage through the streets and alleys. Only very experienced horses, which have practiced in parades and are therefore used to crowds, are chosen. A tour around the market lasts about 10 minutes and costs 4 Euros for an adult, 2.50 Euros for children. The stagecoach departs from its stop north of the Beautiful Fountain daily during the Christmas Market from 1 p.m. to 7 p.m
"Rostbratwurst"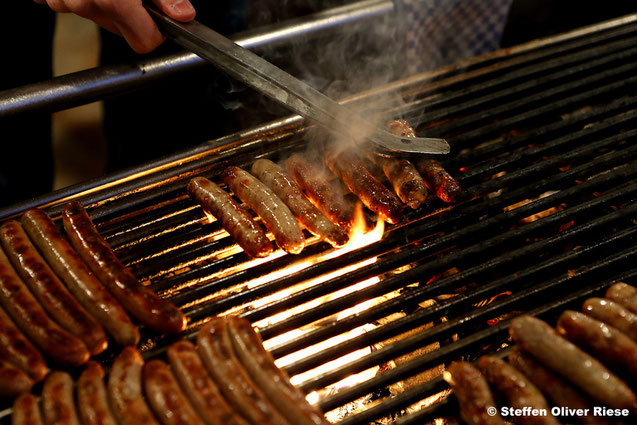 When in Nuremberg, the world-famous bratwurst are a not-to-be-missed pleasure. These culinary delights are eaten in groups of six, eight, ten or twelve with mustard or – more traditionally – horseradish, which is called "Kren" in the local dialect. Or you can enjoy them as three of the small sausages are laid in a sliced-open hard roll ("Weggla") and topped with mustard – voilà: You have a hearty snack in your hand.
In 2003, the Nuremberg "Rostbratwurst" was the first sausage to be accepted on the EU PGI registry, which recognizes traditional, locally-produced specialties in the European Union. The protected geographical indication for Nuremberg Bratwurst says that every Nuremberg sausage must be made within the city limits of Nuremberg according to an official traditional recipe. In addition to the official seal of the EU, they also bear their own "Original" seal. Don't miss it!

Best Christmas Destinations in Europe