Cervinia Valtournenche Ski Season 2022/2023
19th November 2022- 10th April 2023
The three queens of this great district, which are amongst the largest and most popular in the world, Breuil-Cervinia, Valtournenche and Zermatt (Switzerland) are connected to each other by a myriad of slopes and by a dense network of ski-lifts which means that you never need to take off your skis, as you admire the Cervino from the Italian and Swiss sides, letting yourself be "captured" by food stops in the many restaurants on the slopes. The geography of the location speaks of three valleys and two nations, Italy and Switzerland, for international no-frontier skiing.
To be at the top of winter sports, like the offer of "Cervino Ski Paradise", means offering tourists who come here a blend of uniqueness, starting from the slopes (for all levels), moving through panoramas which speak not only of the Cervino, but of all the surrounding mountains, like the magnificent jagged Grandes Murailles.
Guests are offered a cocktail of mountain sports, not only of alpine skiing and snowboarding (also freeride or heliski), but also cross-country skiing and beaten trails to cover on snow shoes or mountain skis. "Cervino Ski Paradise" is more than snow. Alpine villages which have remained intact, active farming, uncontaminated nature: a district which allows itself to be appreciated for the quality of services and authenticity of its residents!
Breuil-Cervinia is certainly an icon, not only in skiing terms but also because of its après-ski activities. Tourism began in Cervinia between the two World Wars and today it offers a holiday in an international cosmopolitan setting, very attentive to the privacy of its guests.
The hotels are equipped with every comfort, including SPAs and cutting-edge wellness centres, gourmet restaurants and eateries in which to enjoy the abundant local produce in characteristic, welcoming settings. Via Carrel, the main street which crosses the built-up area of Cervinia and is dedicated to the first Alpine Guide to have reached the summit of Cervino, is a bijou for shopping. The entire town develops around the street and the size of the village means that the ski-lifts can easily be reached on foot.

Best hotel deals
in Cervinia Valtournenche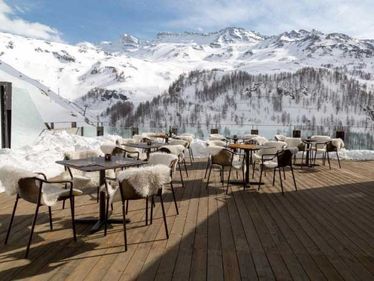 Bergman Mountain 
★★★★
550 m from ski lift, ski-to-door access
Great for families, perfect location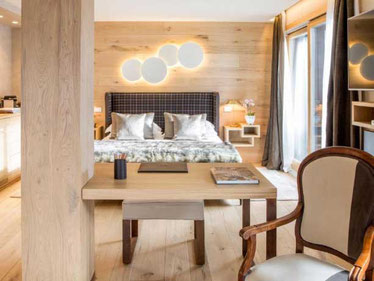 Hotel Hermitage 
★★★★★
100 m from ski lift
Spa with indoor heated pool
Cervinia Valtournenche
image gallery
Top things to do
in Cervinia Valtournenche
Snowpark
Known as 'IndianPark', Cervinia's snow park is located in Plan Maison and its vital statistics are truly mind-boggling: 400 metres long and 100 metres wide, which guarantee a freestyle area of over four hectares (nine acres). Rails, kickers, music (lots) and Big Air make this park the perfect place for snowboarding and freestyle enthusiasts of all levels of ability. Open throughout the season, every day of the week. Special facilities can be provided for photo shoots or other events.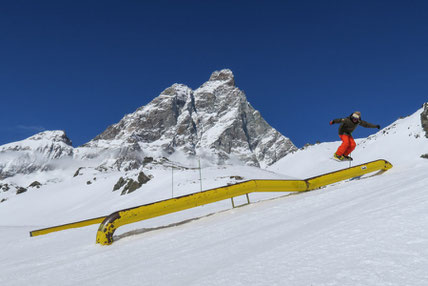 Heliksi
A service that is unique in the whole Alpine region. You take off from Cervinia in a helicopter and fly over the peaks of the ski circuit. You then land and, accompanied by guides and expert off-piste ski instructors, you ski surrounded by breathtaking landscapes, with the great peaks close enough to touch, and breathe the pure air found at 4,000 metres, all of which combine to make this downhill experience unforgettable.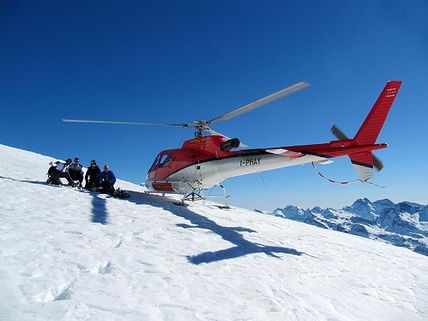 Ice Kart
Located on the edge of town, this ice karting circuit is made of natural ice and is open to the public day and night (with artificial lighting). Children's go-karts are also available (over six years of age). You can even organise races against your friends and fun group challenges. Ice Proving Ground courses are also organised during the winter so you can drive on the ice in total safety, taught by qualified instructors.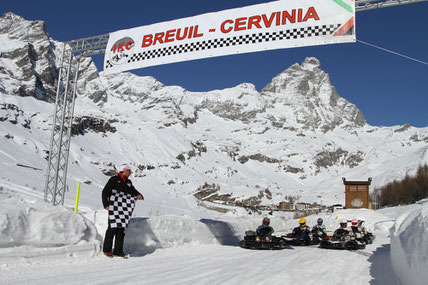 Ice Skating
Ice skating in the centre of town on a specially prepared natural ice rink with a view of the Matterhorn: the rink is open until midnight (and equipped with artificial lighting) and you can even book a game of curling or organise hockey matches. Open November to March.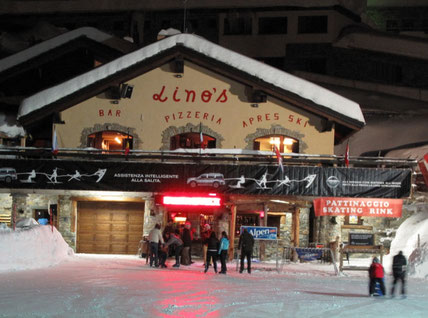 Freeride Skiing
Fresh, soft, powdery winter snow: whether you're on skis or a snowboard. That's the beauty of freeriding: that feeling of being free to turn where the only tracks in the snow are yours. That's why – as well as for several other good reasons – the Cervino Ski Paradise circuit offers unique itineraries. Descents are organised by the Matterhorn Alpine Guide Association.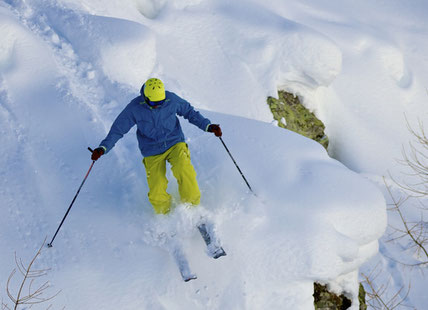 Video
of Cervinia Valtournenche

Discover Europe's best ski resorts