Christmas in Estonia in 2023
Discover two of the most enchanting Christmas Markets in Europe: the Tallinn Christmas Market, located in one of the best preserved medieval old towns, awarded the Best Christmas Market in Europe and the magical Tartu Christmas City, 2h drive away from it, in Southern Estonia, next to hundreds of kilometres of ski tracks.
Discover these unique Christmas Gems and book your flights, accommodation, tours and activities and enjoy magical  Christmas holidays in Estonia.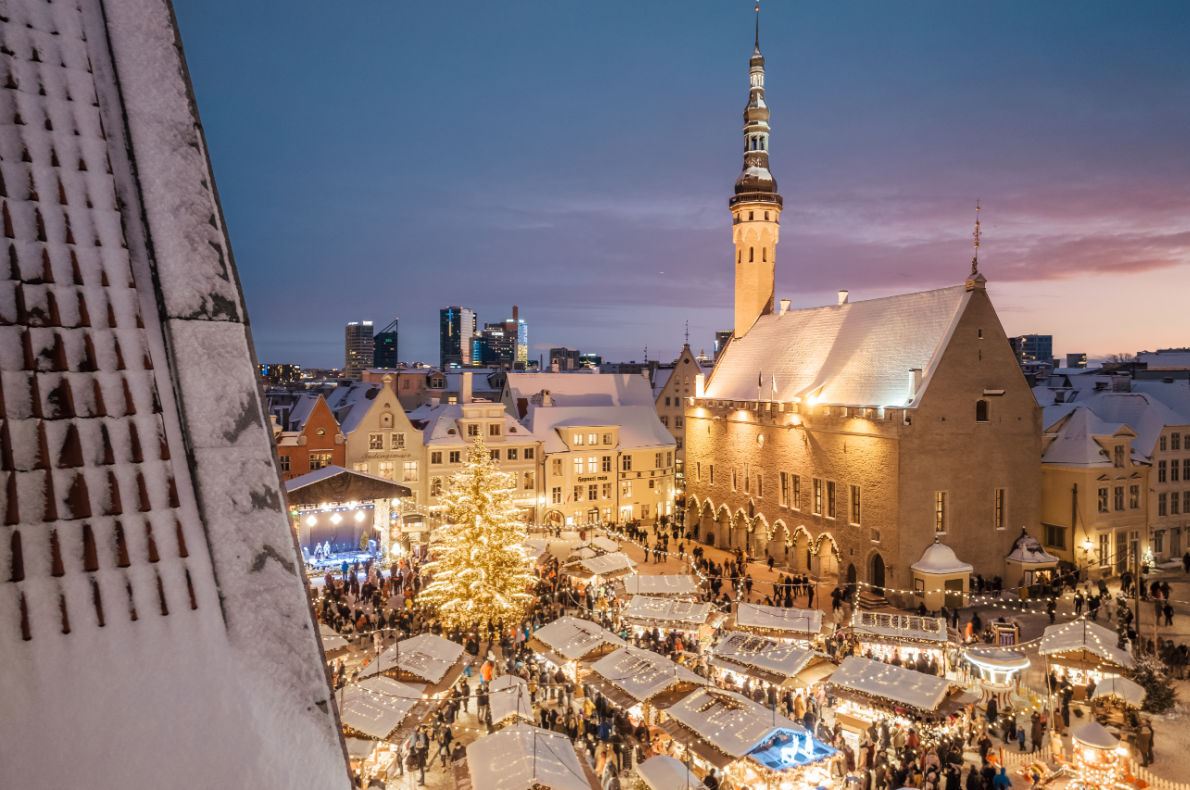 Tallinn
From 1st December 2023 to 7th January 2024
Snowflakes float down over the red rooftops of Tallinn's medieval Old Town. Candles and fairy lights illuminate cafe windows. Follow the cobblestone streets to Town Hall Square, where a beautifully decorated Christmas tree towers over rows of wooden market stands. 
Like the city itself, Tallinn's Christmas Market is a place to visit again and again. It's a place to linger, to soak in the atmosphere. Even the grumpiest Grinch will find his Christmas cheer here. 
This enchanting atmosphere is why Tallinn's Christmas Market has been voted Best Christmas Market in Europe —and it only gets better every year. The entire family can enjoy the magic; tiny travelers can go for a ride on the carousel, while couples can cozy up on a carriage ride. Bring your wishlist for Santa and drop it off at his mailbox, or visit Jõuluvana himself at his little hut in the market. 
Shop for hand-knit woollen mittens, locally-made ceramics, and other handcrafted gifts. Warm your belly with a cup of mulled wine, and enjoy the scent—and taste—of gingerbread, roasted potatoes, and sausages. 
The market is extra lively on the weekends leading up to Christmas when local dance troupes and musicians perform on stage. Luckily, Santa is the master of ceremonies and his multilingual skills mean everyone can join in the fun. Find all the details about Tallinn's Christmas Market here.
Only two blocks from Town Hall Square, you can find Old Town's seasonal skating rink. Rent a pair of skates and glide over the ice with Tallinn's iconic spires in the background. If it starts to feel a bit too nippy, then take your pick of Tallinn's top museums and spend a few hours warming up while learning about Estonia's fascinating history.
Book your flights, your accommodation as well as your tours & activities in Tallinn and visit one of the Best Christmas Markets in Estonia. 
 Opening dates: From 1st December 2023 to 7th January 2024.
 How to get there: Book your flights to Tallinn.
 Where to stay: "Hotel Telegraaf". The Christmas Market is 160 m away.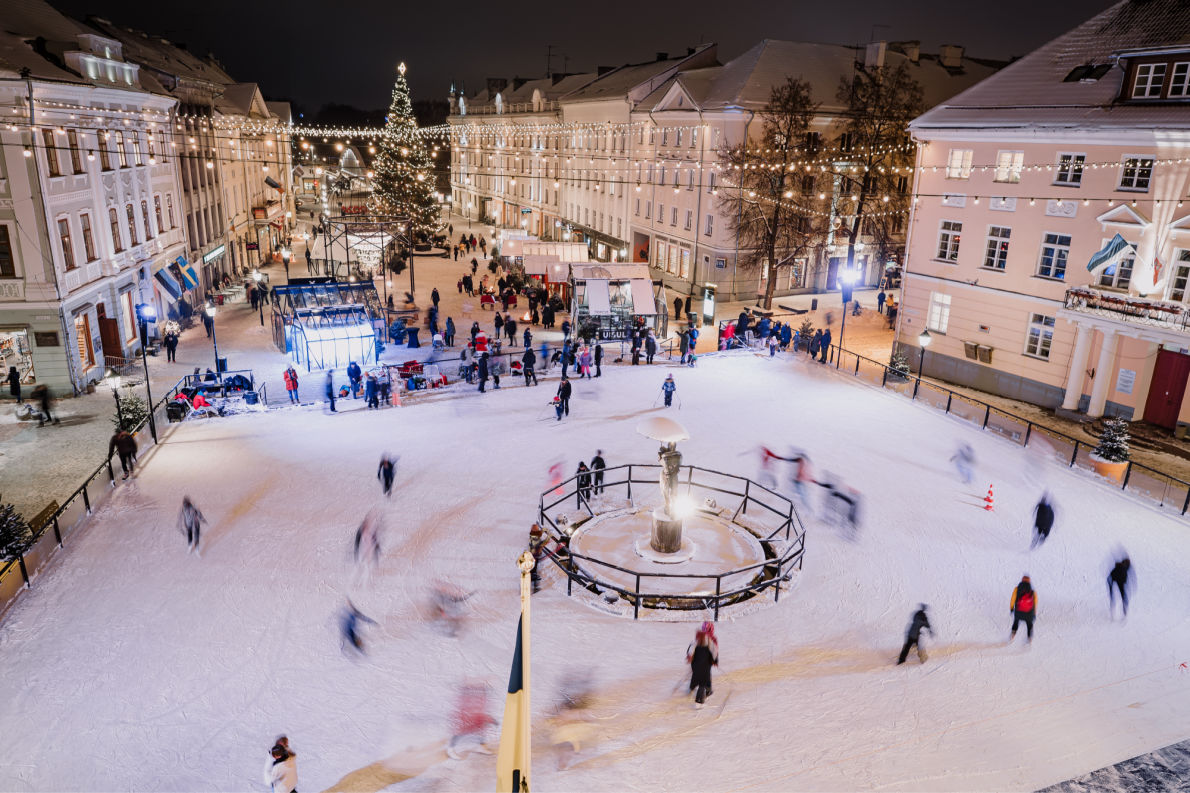 Tartu
From 3rd December 2023 to 7th January 2024
On the first Sunday of Advent, Tartu's Town Hall Square transforms into a magical Christmas City. Glittering glass pavilions line the square and a festive light display sparkles above the street. 
Each pavilion hosts a different activity or exhibition—one has straw for kids to play in, another has postcards to send to faraway friends and family, and others host seasonal workshops. The shortest days of the year become the most joyful as visitors stroll from between the pavilions, admire the enormous Christmas tree, and sip mulled wine.
Every Sunday before Christmas, crowds gather to watch the lighting of an Advent candle, and on Christmas Eve, Tartu's mayor declares the Christmas Peace. On December 9th, colorful striped wool skirts and warm wool sweaters will fill the Town Hall Square. Over 800 folk dancers from Tartu and South Estonia will take over the Christmas City for the Wintry Tartu Folk Dance Day. Grab a partner and join them as they spin around the Christmas tree.
The shining centerpiece of the Christmas City is the seasonal ice rink in front of the Town Hall. Grab a crisp gingerbread cookie to munch on while watching skaters spin around Tartu's famous "Kissing Students" statue. The rink is open until March 3, so you can practice your pirouettes long after the Christmas season has ended. This year, Tartu becomes the European Capital of Culture, so there are even more reasons to visit beyond the holidays.
Tartu is Estonia's second-largest city, but locals know it as the heart and soul of Estonia. When the snow begins to fall, it also becomes a magical winter wonderland. 
Experience an authentic Estonian Christmas at Tartu's Christmas City!
 Opening dates: From 3rd December 2023 to 7th January 2024.
 How to get there: Book your flights to Tartu.
 Where to stay: "Lydia Hotel". The Christmas Market is 100m away.


Plan your trip for Christmas
Hotels, Apartments, B&B...

Fresh deals every single day

Thousands reviews you can trust

Tours, Sightseeing & Activities

 

Discover Europe's biggest collection of things to do and guided tours.

Whatever you want to do you'll find it here.

 

Best in Europe.
Where to go for some festive spirit