Visit Leuven, Belgium
Rich heritage & sparkling urban vibe 
Welcome to Leuven, a picturesque city in the heart of Belgium, an ideal destination for an exciting city break with your friends, family or individually, all year round. Thanks to its rich and varied offering in heritage, art, culture, science, beer, gastronomy and shopping, this town is an invite to stroll and discover. Moreover, it's very easily accessible and everything lies within walking or biking distance.
The moment you walk out the Leuven Railway Station, you can already feel the radiation of a hip & urban vibe in an historical setting, guaranteed to draw you into its vibrancy. 157 nationalities from all walks of life call it home and are the beating heart of this 21st century-old university town.
Have an unforgettable stay at this city that really radiates old-world grandeur with its cobbled streets, beautiful churches, the Gothic Town Hall, the University Library, the Great Beguinage and Park Abbey. And its soul? It never grows old! You can feel that dynamic ambience, all around Leuven.
Enjoy shopping in attractive, car-free shopping streets, from eco fashion to major chain stores, from markets with local products to souvenir and gift shops.
You are in the land of chocolate, beer and gastronomy so don't forget to drop by one of the many cozy cafés and charming restaurants, you can find one around every corner. Home to the legendary and world famous Brewery Stella Artois, Leuven has an incredibly rich brewery history (goes back to 1366!). It's without a doubt the capital of beer. Experience the local breweries in action and enjoy a wonderful beer after your tour.
Much to see and do! You can take a break in Belgium's oldest botanical garden or in one of the green gems in the center and outskirts of Leuven. And staying overnight means you can experience a whole lot more and don't need to hurry. So book your accommodation of choice and you can already look forward to an amazing weekend. See you soon in Leuven!
Best hotel deals
in Leuven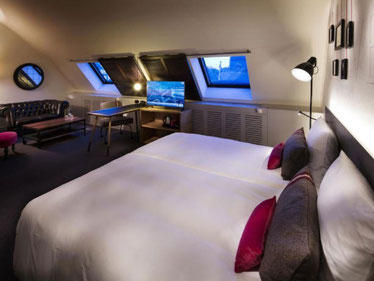 pentahotel Leuven 
★★★★
The Grote Markt is 400 m away
Fitness centre and an on-site bar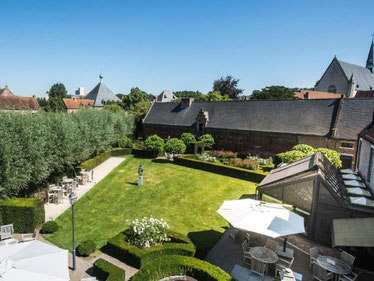 Begijnhof Hotel 
★★★★
15-minute walk from the centre of Leuven
A secluded garden with a terrace
Top things to do
in Leuven
Impressive Gothic Town Hall
The beautiful Town Hall in the city centre, is Leuven's pride and joy and one of the best-known Gothic town halls worldwide. Learn about the (hi)story behind the 235(!) sculptures on its impressive façade and be amazed by the building's Gothic rooms, the foyer and the mayor's salon, during a daily guided tour.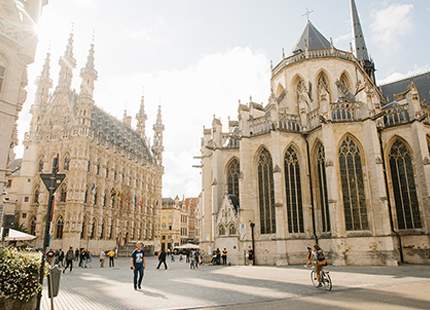 Art treasures in Saint Peter's Church
Right across from the Town Hall, lies the completely restored Saint Peter's Church. This majestic building is a beautiful example of 15th-century Brabantine High Gothic architecture. Watch the outstanding art treasures by Flemish Masters, such as Dieric Bouts' Last Supper, come to life in an innovative experience via a tablet or the award winning hololens. Absolutely worth the visit.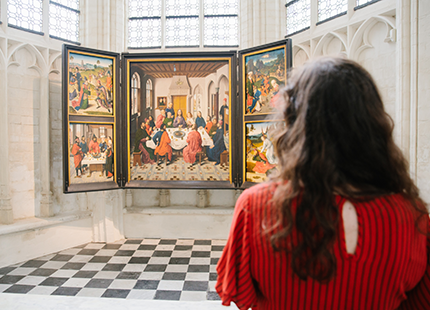 Library with panoramic view
Leuven's internationally renowned university, KU Leuven, has shaped this dynamic university town for nearly 600 years. The architectural University Library is one of the eye-catchers downtown. Climbing its tower is very rewarding. Floor by floor, an exhibition explains the turbulent history of this impressive building. And once you reach the balcony, you can take pictures of a unique panoramic view of this vibrant city.
Trendy neighbourhood Vaartkom
Enjoy a stroll in one of the city's most trendiest spots: Vaartkom. Once an industrial and brewing site near the Canal, this area is being transformed into an innovative neighbourhood and a creative breeding ground for designers, artists and cultural associations. Drop by and discover the perfect synthesis of old and new, with plenty of green spots and new restaurants and shops that are popping up around the picturesque harbour.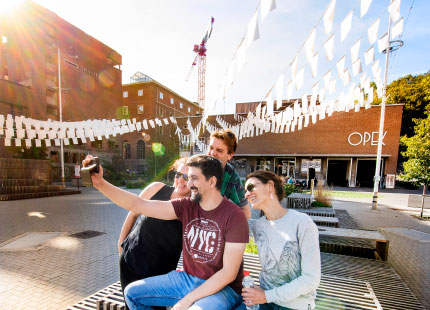 Peaceful Park Abbey
Park Abbey is an exceptionally well preserved 12th-century heritage site on the outskirts of Leuven. Surrounded by a green oasis, where the land and the abbey buildings tell a fascinating story. Many a resident of Leuven is drawn to the avenues, ponds and pastures because it's such a nice place for a walk.