Oslo is the capital of and most populous city in Norway. Oslo constitutes a county and a municipality.
Oslo is the economic and governmental centre of Norway. The city is also a hub of Norwegian trade, banking, industry and shipping. It is an important centre for maritime industries and maritime trade in Europe. The city is home to many companies within the maritime sector, some of which are among the world's largest shipping companies, shipbrokers and maritime insurance brokers. Oslo is a pilot city of the Council of Europe and the European Commission intercultural cities programme.
Oslo is considered a global city and ranked "Beta World City" in studies performed by the Globalization and World Cities Study Group and Network. It was ranked number one in terms of quality of life among European large cities in the European Cities.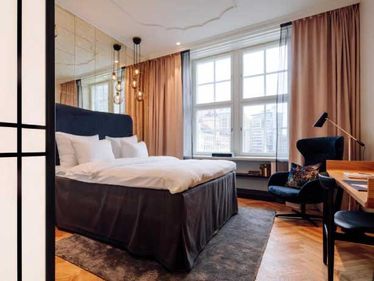 Amerikalinjen 
★★★★
Situated in the real heart of Oslo
Boutique hotel full of charm and in a prime location.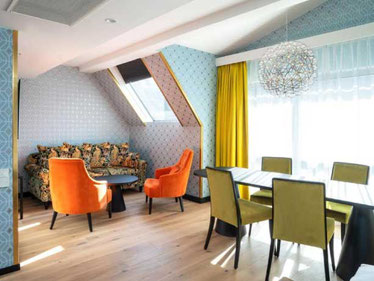 Thon Hotel Cecil 
★★★★
Next to Stortinget and Oslo's main street
Great Food: Meals here are highly recommended
Tours & Activities
in Oslo
Fram Museum - The polar Ship Fram
Fram is the strongest wooden ship ever built and still holds the records for sailing farthest north and farthest south. At the Fram Museum you can come on board the ship and see how the crew and their dogs lived and managed to survive in the coldest and most dangerous places on earth - the Arctic and the Antarctic.
TusenFryd Amusement Park
One park - a thousand opportunities! TusenFryd is Norway's largest amusement park, with over 30 fun attractions and great games, shops and places to eat.
TusenFryd's newest attraction is Thors Hammer, which opens in June. The indoor 3D adventure is packed with the latest in park technology. The park features attractions for all ages, including large and small rollercoasters, carousels, a log ride, a 5D haunted house and much more.
Akershus Fortress
Akershus Fortress, located in the city centre by the Oslo Fjord, is a great place to discover Oslo's history and a beautiful place to enjoy a summer day.
Holmenkollen Ski Museum & Tower
A historic landmark in the Norwegian consciousness, Holmenkollen embodies more than a century of skiing competitions.
Inside the ski jump is the Holmenkollen Ski Museum, the oldest of its kind in the world. The museum presents over 4,000 years of skiing history, as well as Norwegian polar exploration artifacts.
Vigeland Sculpture Park
Vigelandsparken is one of Norway's most visited attractions with more than 1 million visitors every year.
The unique sculpture park is the life work of the sculptor Gustav Vigeland (1869-1943) with more than 200 sculptures in bronze, granite and cast iron. Vigeland was also responsible for the design and architectural outline of the park. A monumental artistic creation with a human message that is well worth seeing. The park is open all year at all times and is a popular recreation area.